B-Well Bulletin
Posted December 17, 2021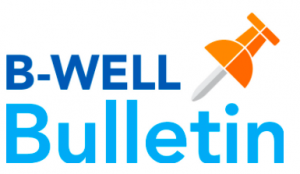 Important news, updates, and information included in this week's Bromwell Bulletin!
Principal Note
The NED Show Follow-Up
Staffing Update
DPS 2022-2023 School Choice
COVID Update
Message from the Library
Calendar Planning:
December 20 – January 3 – NO SCHOOL/ Winter Break
January 4 – First day back in 2022!
As we head into Winter Break 2021, I want to take a quick moment to thank all of you, our Bears, and our community. While COVID has been ever-present, we have been learning in-person, meeting objectives, and having fun celebrating some of our long-standing Bromwell traditions thanks to everyone's caution and dedication to keeping our students in school. We are working hard and closing gaps that have emerged following a challenging couple of years. I hope everyone has a joyful holiday season, and we look forward to welcoming our Bears back in 2022. – Principal Valecia von Wiese
Follow-up from The NED Show – This past Tuesday we held a school-wide virtual assembly called the NED Show. The NED Show is a positive behavior program, supporting students with setting goals and developing a growth mindset. NED stands for Never give up, Encourage others, and Do your best. NED's message inspires students, promotes academic achievement, and supports the work John and Kelly do in SEAL every morning. Students shared that "Ned taught me how to set goals", "Ned used his toolbox just like us!", and "Can Ned come back again?"
The NED Show was a free assembly through the "pay it forward" program. The money from NED's yo-yo sale allows for NED to visit another school and spread his message! Additional opportunities to purchase yo-yo's (they cost $10-16) will take place after the break!
Staffing Update – The Bromwell Leadership Team has exciting news to share: Bromwell is fully staffed! During these challenging times, with few teachers and staff applying for jobs in education, Bromwell has found the needles in the haystack. This speaks volumes of our team and community, making Bromwell a place where people truly want to work! Please help us welcome our newest staff members:
Mia Stephenson – 2nd Grade Long-term substitute teacher
Hannah Saul – 1st Grade Long-term substitute teacher
Ama Owens Haag – Social Emotional Support Paraprofessional
Robyn Mayer – Special Education Paraprofessional
Melanie Sanderson – Special Education Paraprofessional
We've also been able to support one of our existing staff members, Ali Hansen, explore a new role as our Heath Tech.
DPS 2022-2023 School Choice Reminder – DPS School Choice Round 1 opens January 14th! Bears who are moving on to middle school next year, ECE students who intend to return to Bromwell for Kindergarten, and any new families who want to join the Bromwell community will need to complete the Choice process. A few school tour times are available (1/6, 1/13) prior to Round 1 Choice opening! Please feel free to forward along the following tour sign-up link: https://bromwell.dpsk12.org/bromwell-new-family-school-tour/.
COVID Update – We are so grateful for your ongoing support to keep our school and community safe. During winter break, please report any COVID exposures and positive cases to Nurse Brook and Principal von Weise at brooke_goudy@dpsk12.org and valecia_vonweise@dpsk12.org. We also encourage you to test your Bears prior to returning to school on January 4, 2022. Our goal is to return and stay 100% in-person after break while knowing we all want to celebrate the holidays with family and friends.
School Library Books – Our wonderful library volunteers have been working hard this week to ensure every Bear has books to bring home over the holiday break. It's important that checked-out books are returned to the library in a timely manner. Please be sure that your Bear has a safe place to keep their books so they can easily be found when they are due to be returned.
Helpful links:
Weekly To Do's:
Have a WONDERFUL, JOYFUL, HAPPY Winter Break. See you in 2022!