Health Services
School Nurse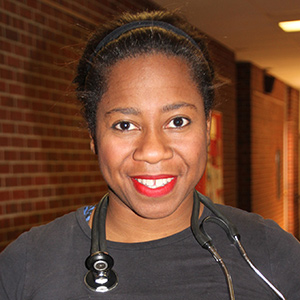 Brooke Goudy, RN, is Bromwell's nurse. She is at Bromwell on Monday, Tuesday and Wednesdays. While she's an expert in tummy aches, fevers, and band-aid application, she does much more at our school. Her responsibilities include:
Maintains health records (medical diagnoses, immunizations, etc) of students.
Administers physician-ordered medications at school.
Organizes vision/hearing screenings for students.
Provides alternative resources for families/students when appropriate/necessary.
Works closely with the special education team to maintain health and safety of students in Bromwell's Physical Disability Program.
Works closely with the special education team and families to monitor and address health concerns that impact students in the academic setting.
Addresses emergency situations, injuries, illness, etc., at school. If you have any questions about the health services provided at Bromwell.
If you have any questions about the health services provided at Bromwell, please contact Brooke Goudy at Brooke_Goudy@dpsk12.net.
Reporting Symptoms
If your student is going to be absent because of COVID exposure, or COVID symptoms, please call 720-424-9340 and leave a message. DO NOT CALL the regular attendance line.
Please do your part and fill out the Student Health Screening at https://live.safeaccess.app/en/locations/J5qhERj/attest each morning before drop off, one form per student with their individual student ID's. Thank you for helping to keep our community healthy and safe.
Health Forms
Up to date forms are available from the main DPS Nursing site.
Please complete and submit these forms to the front office if your student requires any medications:
DPS Health Services and Documents
Food Allergy Awareness
Bromwell Elementary recognizes that food allergies can be life threatening. The risk of accidental exposure to foods can be significantly reduced by working with students, parents, health care providers, and school staff to minimize unnecessary exposures and provide a safe environment for our students. Denver Public Schools' allergy policy outlines four major requirements set forth by the Board. They include: a health care plan, reasonable accommodations, access to emergency medications, and staff training.
Bromwell Elementary is committed to implementing these policies. Bromwell has initiated additional interventions to protect and empower our students with food allergies. Bromwell believes in a real world approach to managing food allergies, which will help students thrive in society at large. The goal is to equip all students with the most effective way of being a "PAL" (Protect a Life):
Education and Awareness
Students are each other's first line of defense. By educating students and staff on primary prevention methods and the signs of an allergic reaction, we can create a safe environment for everyone; those with known allergies, and those with undiscovered allergies. In an effort to increase awareness, Bromwell Elementary will hold an annual "Be a PAL" campaign before every Halloween and will hold semiannual principal coffees that focus on health related issues in the school.
Our school nurse, Brooke Goudy, will meet with all classrooms to discuss allergies and the five main ways in which everyone in the school can Be a PAL and Protect a Life:
Understand that food allergies are serious and are not something to be joked about.
Do not share food, especially with friends who have food allergies.
Wash hands after eating to avoid unnecessary exposure.
Ask friends about their allergies and help them avoid worrisome foods.
Know the signs of an allergic reaction and get help immediately if someone is sick.
Nurse Goudy is working to make Bromwell's existing policy of protecting kids with food allergies even stronger by taking additional steps such as making the sign for the allergy table in the cafeteria more prominent, working closely with the cafeteria manager, and placing a list of epinephrine-trained staff at both the allergy table as well as on her office door. Nurse Goudy is available to respond to any questions or concerns at Brooke_Goudy@dpsk12.org.
If your family is interested in learning more about food allergies, a trusted source is the FARE website: FARE Food Allergy Research and Education