Parent Teacher Association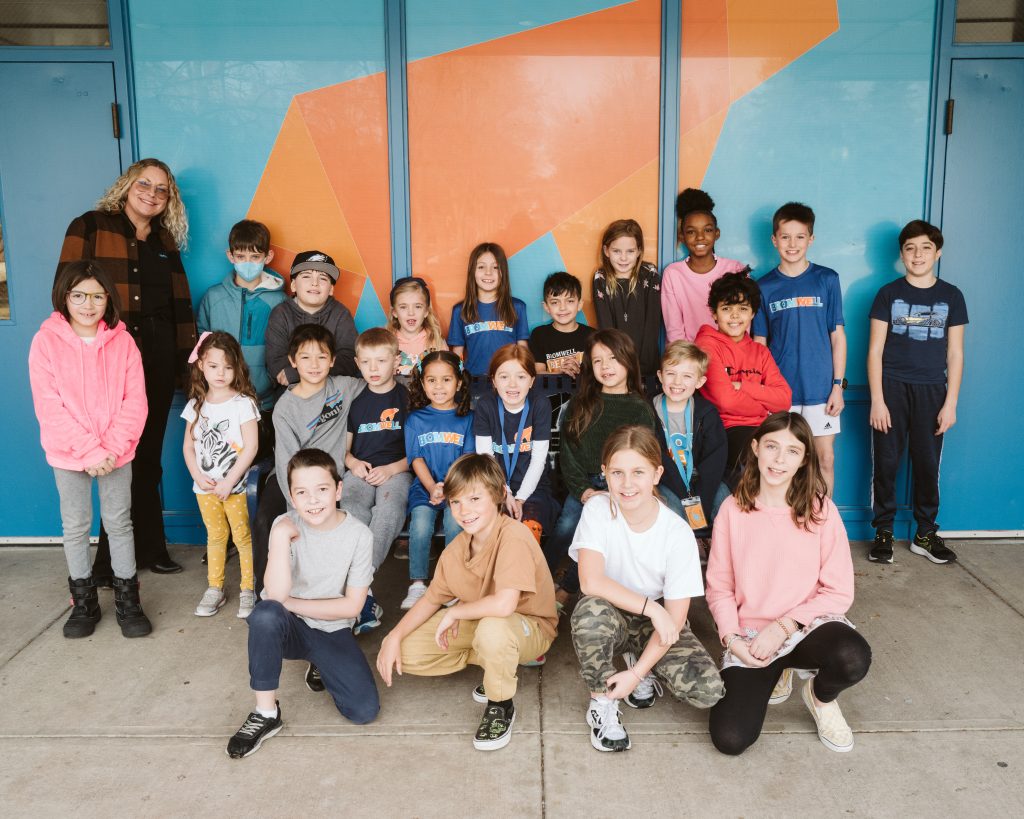 Mission
The Bromwell PTA is a 501(c)3 non-profit membership and service organization that is comprised of Bromwell parents, caregivers and staff who are passionate about enriching the lives of all students at Bromwell Elementary School. We believe that great things happen when we work together and support each other! The role of the Bromwell PTA is to build community, promote volunteering, raise funds and support our teachers and staff.
What We Do
Build Community
Summer Playgroups for ECE and Kindergarten Families
504/IEP Families Support Group
Classroom Liaisons
Family Movie Night
Middle School Options Night
Holiday Baskets
Book Fair/Read A Thon
Multicultural Week
Superhero Fun Run!
Staff Appreciation
Field Day
5th Grade Continuation
Weekly school communications
Support Volunteering
Bromwell is a special place, in part because of our large group of parent and caregiver volunteers. Keep scrolling to read more and sign up!
Fundraise
All DPS schools receive a baseline, per-student allocation, with additional funds added for Title 1 Schools, English Language Learners, Mill Levies, and students who qualify for Free and Reduced Lunch. This funding model ensures that the students with the most needs receive the most resources. Per-student funds across DPS range from $6,500 (Bromwell received $7,213 last year) up to $12,000. We fundraise to provide additional support to create an enriching educational experience to all Bromwell students.
Get Involved
Join the PTA
The Bromwell PTA is an active voice for decisions that impact your student's school experience. Everyone is welcome in our PTA! We believe family engagement and participation improves our school community. Dues are $6.25 per person, per year.
Click here to join today or print the form at the bottom of this page and return it to the Bromwell office along with your cash or check payment.
Benefits of Membership
Network with other parents and caregivers.
Learn about what's going on at Bromwell and have input in PTA plans and actions.
Vote to approve the annual PTA budget and elect officers.
Support a national organization that strengthens schools, families and student success.
Advocate for the children's well being, safety and education at Bromwell.
Volunteer
Be a part of your student's learning experience by assisting in the classrooms or library, helping to organize fundraising and community building events. In the same way that our school would be a different place without the funds we raise, the same is true for the time and dedication of volunteers. Last year over 125 volunteers donated countless hours to Bromwell!
Review the committee descriptions and in-school volunteer opportunities below and Click here to sign up! Need help deciding? Let us know and we'll help you find the right fit.
Scroll to the bottom of this page for a printable Volunteer Interest Form.
Please note that all In-School Volunteer jobs will require proof of vaccination and a free, quick background check.
Committee and Volunteer Descriptions
Annual Fund Committee: We are looking for writers, editors, photographers and creative thinkers to join our team this year. This committee organizes all aspects of the annual fund, including communications materials, classroom celebrations, thank you letters, donation tracking, All-In SEAL discussion and "Bring the Change" coin day. Fundraising experience is not required. Medium commitment Sept. – Nov. Work can be done at home and/or at school.
Annual Fund co-Chair: We are looking for someone to join the committee this year and take a leadership role in 22-23. Fundraising, sales or marketing experience is helpful but not required. Most work can be done at home, in the evenings/weekends. Time commitment varies, but is heavy Oct – Nov.
BADEI: Join our group to support fostering a more welcoming school community for all, we are working to address barriers related to race, culture, socioeconomics, ability, gender identity, sexual orientation, geographic location, and mental health. We are committed to navigating it together to create a supportive and inclusive environment for School staff, families and our students.Light commitment year round. Work can be done at home and/or at school.
Beautification, Garden and Grounds: Help with harvesting and weeding in the fall, preparing and planting the garden in the spring and maintenance over the summer. A small number of family plots will be available via lottery in the spring. Light commitment spring, fall. Work is done on site, at school.
Book Fair/Read A Thon: This team will work with Scholastic and school leadership to plan, set up, and sell books for the book fair as well as distribute read-a-thon charts and prizes. Work with the communications team and teachers to share information with the community.
Classroom Liaisons (formerly room parents): Support classroom teachers with planning holiday and year-end gatherings, creating sign ups, soliciting extra classroom supplies, sending out communications as needed. Embody the values of family engagement at Bromwell, ensuring that all families feel welcome in the school community and empowered to participate in meetings, events, volunteering and informal gatherings. New this year: Classroom Liaison teams for our Specials teachers! Consistent year round commitment, work is done at home and occasionally at school.
Fun Run and In Person Auction: This year we will be welcoming back our in person auction, as well as the Fun Run! There are so many different opportunities to help on this committee with logistics (venue, entertainment, food, etc), prizes, communications, procuring auction items, data entry to name a few.
Community Engagement
Multicultural Week
PTA Membership and Volunteers
Social Media
PTA Meeting Schedule
PTA meetings are open to everyone! Please join us:
Friday, September 9th, 8:30 a.m., at Bromwell and virtual
Tuesday, October 11, 7:30 p.m., virtual
Friday, November 11, 8:30 a.m., at Bromwell and virtual
Tuesday, December 13, 7:30 p.m., virtual
Friday, January 13, 8:30 a.m., at Bromwell and virtual
Wednesday, February, 15, 7:30 p.m., virtual
Friday, March 10, 8:30 a.m., at Bromwell and virtual
Tuesday, April 11, 7:30 p.m., virtual
Friday, May 12, 8:30 a.m., at Bromwell and virtual
Meet the PTA Board
Erin Phelan, President
Hello, Bromwell Bears! I am so excited to be your PTA President this year. The Phelans have
been at Bromwell for 5 years and during that time I have volunteered in a variety of roles,
including Annual Fund, Membership and volunteers and diversity, equity and inclusion (BADEI).
This year, my focus will be on ensuring everyone feels welcome in our PTA, making sure every
board member and committee lead has what they need to thrive, and meeting as many of our
community members as I can! My favorite ways to regroup and calm down are reading books,
cooking, listening to music and doing the occasional craft project.
Emily Peros, Secretary
​Born and raised in Denver I settled back here after a short jaunt up to Boulder where I got my
undergraduate degree in Humanities. I graduated from the University of Denver with my
Masters in Library and Information​ Science​ and ​have ​worked all over the Denver Public Library
system for over a decade. My husband, Scott and I have lived in Virginia ​Village for 16 years
where we live and play with Dash (2nd) and Sophia (ECE). We go to the C​herry ​C​reek
reservoir, the botanic gardens or to the mountains for hikes most weekends throughout the
summer. I joined the PTA because I wanted to make sure there would be diverse representation
in the crowd and as a way to stay involved in the decision making process around my childrens'
education. This is my first year on the Board.
Imthiaz Houseman, Treasurer
Hello! I'm Imthiaz Houseman, mom to Archer (4th), Bellamy (1st), and Cash (ECE). My
husband, Adam, and I also have a senior in high school. We are Colorado natives, and this is
our second year at Bromwell. I am excited to be a first-timer serving on the board. I decided to
get more involved with our PTAs during remote learning to connect with parents and the
schools. Adam and I run two small businesses, so we are familiar with budgets and increasing
revenue. I look forward to connecting with the Bromwell community this year!
Andrea Stapleford, VP Communications
Mum to one, Henry (Grade 3), this is my second year on the PTA Board. I previously chaired
the CSC and served on the committee for two years. I originally moved to Denver from
Vancouver, Canada, to play volleyball for the University of Denver. That was more than two
decades ago, and somehow I am still in Denver! I love being informed, and hope to help ensure
all parents and caregivers have the information they need to actively participate in the Bromwell
community. I truly believe our community is what makes Bromwell so special.
Jen Goethals, Co-VP Community
I'm Jen Goethals, mom to Declan (5th), Clara (2nd), Charlie (K) and Leo (preschool). My
husband Ryan and I moved the family to Colorado in August 2020 and have loved everything
this beautiful state has to offer. This will be our third year at Bromwell, and I'm excited to
experience the school post Covid! I've been a member of the PTA for the past two years, but
this is my first year serving on the board. I look forward to meeting new families and creating a
fun and welcoming environment in my role as Co-VP of Community.
Shawn Williams, Co-VP Community
Hi, I am Shawn Williams and I have a son, Van Johnson, in first grade. I also have a 4-year-old
daughter, Willa, who is sometimes in tow with me when I drop Van at school. She attends St.
John's school in Washington Park. I share the Community board position with Jen Goethals
and am responsible for the dine-outs and shopping events, amongst helping other committees
when needed. I love being part of the Bromwell Community and helping out where I can when I
have the time. When not taking care of my kids, I help my husband, Scott, with our growing
small business. I also make time to hit Orange Theory and Barry's during the week for some
mental clarity! Every once in a while, I'll head up to the mountains to hike a 14r and in the
winter you'll find our family skiing every weekend. If you know Van, you'll know that we are an
active family! Reach out if you have connections with restaurants or retail stores and if you
want to come to workout with me!
Rob Inglis, Co-VP Fundraising
Hey everyone, I am Rob Inglis. My wife Erin and I have two kids at Bromwell. Charlie in
Kindergarten and Lucy in 3rd grade. Erin works at Clinica Campesina delivering babies and
supporting the community. I figured it was my turn to try and help out. As a family we have
pretty standard 'Colorado' interests skiing, biking and spending time in the mountains. We have
been known to catch a show or two at the Lions Lair. Looking forward to teaming up with Nick
and the rest of the Bromwell family to see if we can bring these ideas to fruition.
Nick Evans, Co-VP Fundraising
Hello! I'm Nick Evans and have two Bromwell Bears, Theo in 2nd grade and Darby in
Kindergarten. My wife, Betsy, and I have been in the Denver area for almost a decade now and
love living near Cheesman park. We are an active family and you will see us running through
parks, playing in soccer leagues, and going up to the mountains for hiking and skiing. I'm an
avid runner and home cook and run a food blog full time, developing recipes for companies. I'm
excited to work with Rob this year, solidifying the strong Bromwell fundraising from past years
and expanding to add opportunities for fundraising throughout the Cherry Creek community.
Lexie Krohn Parker, VP Membership and Volunteers
Hi, I'm Lexie Krohn Partner and I have two boys, Bryson in 2nd grade and Cole in Kindergarten.
My husband, Trent, and I were born and raised in Portland, OR and have been in Denver for 10
years. I am responsible for encouraging and inspiring people to join the PTA and support our
school through volunteering – either in the school, a take home project from a teacher, or
assisting PTA with fun things like spreadsheets. I believe adults need to advocate for what's
best for the children, as well as fill the missing gaps that public schools can't afford to fill. I also
found a new love for school libraries last year as I helped a team of volunteers open our school
library, and still serviced only by volunteers!. I love the Bromwell community, not just the
friendships my boys have made, but that I've also made! When I'm not busy with school
activities, you'll find me cheering my alma mater, University of Oregon (go Ducks!), attending
soccer practices and games, mornings at Cheesman Park or the Botanic Gardens, or snuggling
with our 10yr old Irish Terrier, Miss Oscar Louise.
Staff Partners
Valecia von Weise, Principal
Kelly Urbanowski, Senior Team Lead
Sarah Simpson, 5th Grade Teacher
PTA Notes & Documents
Any questions regarding donation refunds, please review our Refund Policy