B-Well Bulletin
Posted January 28, 2022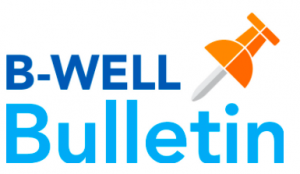 January 28, 2022
Important information, updates, and reminders included below!
Winter CSC Meetings
2022-2023 Enrollment Verification
Morning Drop-Off
Declining Enrollment Advisory Committee
Virtual Town Hall on Children's Mental Health
Calendar Planning:
February is Black History Month
February 2 @ 6:00pm – Town Hall – Children's Mental Health
February 3 @ 4:30pm – CSC Meeting Via Zoom
February 4 – Deadline to Submit Enrollment Verification Forms
February 7 @ 6:30pm – Creating Community Meeting Via Zoom
February 8 @ 7:30pm – PTA Meeting Via Zoom
February 8 – DINE OUT @ Cherry Cricket
February 15 – Round 1 School Choice CLOSES
Winter CSC Meetings – The Collaborative School Committee will be ramping up meetings through February to discuss the budget, enrollment, and planning for the 2022/2023 school year. We want to hear from you! This is an important time to ensure we are effectively representing our community's voice. Can't make the meeting on February 3? No problem. Reach out to one of your community representatives: Andrea Stapleford (Henry, 2nd Grade, Stranges/Stephenson), Carla Beal (Margaret, 5th, Ray; Thatcher, 3rd, Johnson), Natalie Crump (London, 3rd, Mak; Casen, 2nd, Walker). We will also be sending out a school-wide survey as we did last year to assess funding priorities for next year.
2022-2023 Enrollment Verification – It's time once again to complete an Enrollment Verification Form for Bromwell Elementary for the upcoming 2022-2023 school year. Please complete your enrollment verification HERE by February 4th.
Morning Drop-Off – The earliest you can drop off your Bromwell Bear in the morning is 7:55am. We have supervision on the playground beginning at 7:55am. Please drop your Bromwell Bear at Kiss n Go or the Garden gate between 7:55am and 8:09am. The first bell rings promptly at 8:10am. This also applies to all Inside Days.
Declining Enrollment Advisory Committee – The Declining Enrollment Advisory Committee will work to create recommendations on how the district should address ongoing declining enrollment, which impacts our ability to provide equitable, high-quality educational programs for our students. Superintendent Marrero will review the committee's recommendations on criteria to identify, close and/or consolidate schools with significant declining enrollment.
Diversity and inclusion will be an important consideration for this task force and members will include families, students, community partners, school leaders, teachers and staff, and central office leaders. View the online form to learn more about the committee selection criteria and submit an application. For more information visit: https://www.dpsk12.org/declining-enrollment/
Free Virtual Town Hall Event on Urgent Topic of Children's Mental Health – Wednesday, February 2 @6:00pm
Free: Click here to register, learn more, and receive the event link
In the US, the second leading cause of death for people ages 10-24 is suicide. In Colorado, it is the NUMBER ONE cause of death for that age group. Children's Hospital Colorado declared a state of mental health emergency last May because of the dramatic increase in the numbers of young people checking into the emergency rooms in crisis. It affects every demographic—no family is immune.
This one-hour free Town Hall, presented by Children's Hospital Colorado, is an opportunity to hear from mental health experts in our community on how to develop resilience, and steps we can take to address this crisis. The situation has become so urgent that Children's Hospital has named Dr. Ron-Li Law as its first-ever mental health-in-chief; she will facilitate the Town Hall and be available for a Q&A session following the presentation.
School Choice, 2022-2023 School Year – Reminder, all students entering Kindergarten need to "choice in" to Bromwell; even if you are a boundary student, or currently enrolled in ECE. Choice info can be found here: https://schoolchoice.dpsk12.org/schoolchoice/round-1/
Weekly To Do's:
Complete School Choice and Enrollment Verification Forms (if you haven't yet!)
Listen/Join the Town Hall Discussing Children's Mental Health on February 2 @ 6:00pm
Join us for CSC and budget discussion on February 3 @ 4:30pm