B-Well Bulletin
Posted February 3, 2022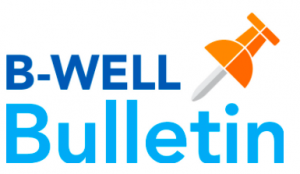 February 3, 2022
REMINDER – CSC MEETING TODAY @ 4:30pm (Via Zoom)
February is Black History Month
Health Updates
Sock & Shoe Drive
Lost & Found
Calendar Planning:
Reminder – Bromwell's Daily Schedule is 8:10am – 3:10pm
February is Black History Month
TODAY February 3 @ 4:30pm – CSC Meeting Via Zoom
February 4 – Deadline to Submit Enrollment Verification Forms
February 7 @ 6:30pm – Creating Community Meeting Via Zoom
February 8 @ 7:30pm – PTA Meeting Via Zoom
February 8 – DINE OUT @ Cherry Cricket
February 15 @ 8:30-11am – Science Fair (Bromwell Gym)
February 15 – Round 1 School Choice CLOSES
CSC Meeting TODAY – CSC will be discussing budget, enrollment, and planning for the 2022/2023 school year during our next few meetings. If you are unable to attend our meetings, please reach out to one of your community representatives: Brit Bass – brittanyrbass@gmail.com (Will, 2nd Grade, Walker; McLinden, Kindergarten, Feigle/Percival), Andrea Stapleford – andreastapleford@gmail.com (Henry, 2nd Grade, Stranges/Stephenson), Carla Beal – carlabeal001@gmail.com (Margaret, 5th, Ray; Thatcher, 3rd, Johnson), Natalie Crump crump.natalie.m@gmail.com (London, 3rd, Mak; Casen, 2nd, Walker).
February is Black History Month – Our Bears will spend time in February diving deeper into black history in their classrooms, in addition to "exploring" art and sculptures around Denver created by black artists. If you want to keep the conversation going at home and are looking for additional resources, the DPS website has resources and material to engage and discuss with your student. https://www.dpsk12.org/celebrating-cultural-moments/black-history-month/
Health Update – Bromwell will no longer be sending out classroom-wide notifications of Covid cases. Students potentially exposed/in close contact will continue to be notified as per prior Covid policy. The DPS Covid dashboard will continue to post school specific case counts. Also, masks are still required throughout DPS for both teachers and students. Please make sure your Bear has a clean mask every morning and an extra in their backpack should they need it during the day.
Sock & Shoe Drive – Thank you to our community for another successful fundraising effort! The Sock & Shoe drive was a huge success! Student council collected over 450 pairs of socks, nearly 200 pairs of shoes, and some gloves, backpacks and lunch boxes to boot! Thank you so much for your generosity and kindness.
Lost & Found – The lost and found is overflowing again. Please take a look at the photos provided, particularly of jackets and sweaters and ask you Bears to swing by the lost & found to retrieve them. The front office will provide a day/time where the rack and bins will be placed outside prior to donating what has amassed since the holiday break. https://drive.google.com/drive/folders/13Al9Lt2G1lpAUQnVs7w3jSgAdhwaBTj6?usp=sharing
School Choice, 2022-2023 School Year – Reminder, all students entering Kindergarten need to "choice in" to Bromwell; even if you are a boundary student, or currently enrolled in ECE. Choice info can be found here: https://schoolchoice.dpsk12.org/schoolchoice/round-1/
Weekly To Do's:
Join us for CSC and budget discussion TODAY, February 3 @ 4:30pm
Join us for our Creating Community meeting February 7 @ 6:30pm
Join us for PTA February 8 @ 7:30pm