B-Well Bulletin
Posted February 11, 2022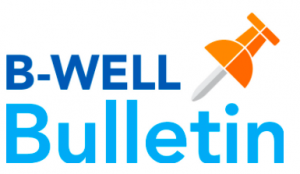 Important information, updates, and reminders included below!
BADEI Grant / Creating Community
Girls on the Run
End of the Week Recap
Calendar Planning:
Reminder – Lost & Found will be outside today
February is Black History Month
February 15 @ 8:30-11am – Science Fair (Bromwell Gym)
February 15 @ 8pm – BADEI Work Session
February 15 – Round 1 School Choice CLOSES
Our Bromwell Community Won a Grant and Call To Action! – Your Bromwell PTA was selected as one of 27 nation-wide winners of the "Advancing Diversity Equity and Inclusion Grant (ADEI)" from the National PTA. This grant will provide the PTA, Creating Community Team and the Greater Bromwell Community a framework to explore who makes up our community, who is missing from leadership roles and engagement activities, and create an action plan that we will implement next year. This is an opportunity for everyone at Bromwell to have a voice in how we as a school community plan community engagement activities next year and in the future!
Join the movement by attending our first BADEI work session on Tuesday, February 15, at 8:00 PM via Zoom (RSVP included in link) and click here to tell us about how you want to be involved: https://forms.gle/PqBN8MDXXWvpjECF6
Girls on the Run – Calling all 3rd – 5th grade girls – Girls on the Run is COMING. Girls on the Run is ready to help girls thrive and shine. Girls on the Run will start the week of March 7th. We will meet twice a week (days and times TBD). Open to all 3rd, 4th and 5th grade girls. Registration opens February 7th. For more information about the program go to www.girlsontherunrockies.org. Questions or want to coach? Ask Miss Sims at ann_sims1@dpsk12.net.
News this week – There was a lot of news, meetings and updates this week that warrant a recap to ensure our community as a whole is informed. We know that it can be challenging to make CSC and PTA meetings, but please know that you can always reach out between meetings if you have questions or wish to discuss important topics. A few highlights from the past two weeks:
CSC has requested a grant increase from the PTA for the 2022/2023 school year from $175,000 to $200,000. This will ensure we can maintain our small group instruction model for another year, as we have seen great success in the first half of the school year. PTA approved the request.
While planning for staffing for the 2022/2023 school year, staff submits letters of intent to return; we received word that two of our beloved teachers will be retiring, Mr. Todd Johnson (3rd Grade) and Mr. Steve Replogle. They have been part of the Bromwell community for decades, and while we will miss them, we wish them well in their retirement. These positions have been posted and we are optimistic in our search!
Masks will no longer be required in DPS buildings on February 28. This is a big announcement and will likely invoke a lot of different emotions. We will respect individual decisions with regard to masking going forward and will continue to support all of our community members.
Weekly To Do's:
Please make sure your bear has a few healthy snacks in their backpack each day. We have some hungry students in the afternoons, and it's tough to learn with a grumbling stomach!