B-Well Bulletin
Posted February 18, 2022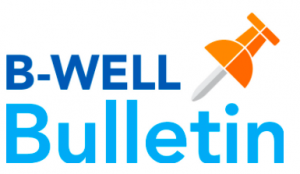 February 18, 2022
Important information, updates, and reminders included below!
Masking Update
Metro State Student Teachers
Lockdown Drills
Read-A-Thon / Book Fair
Calendar Planning:
February 21, 22 – NO SCHOOL
March 1-2 – Scholastic Book Fair @ Bromwell
March 1-6 – Bookfair @ The Bookies (in-person and online @ thebookies.com)
March 2 – DINE-OUT – Modern Market
March 8 @ 7:30pm – Monthly PTA Meeting (Via Zoom)
March 10 @ 4pm – Monthly CSC Meeting (Via Zoom)
March 15 – DINO-OUT – Mici Italian
As a quick reminder, your student's teacher(s) are your first point of contact regarding questions in the classroom, and Cindy/the front office is a great point of contact for administration related questions! Please utilize these knowledgeable resources prior to reaching out to Principal von Weise.
Updates for masking – DPS will be ending the mask requirement for students and staff on 2/25. Starting Monday February 28, students, visitors, and volunteers will no longer be required to wear a mask while indoors at school; however, should anyone wish to continue wearing a mask, this decision will be wholly supported by staff and students. Knowing that each of our Bear's families have different experiences and emotions surrounding Covid, we must recognize as a community that each of us will receive this news in a different way. I am confident that our community will lead with empathy and support. We are currently discussing respect in our SEAL lessons, and the idea of personal choices tie in perfectly to the concepts our Bears are presently exploring.
While there are MANY additional questions that naturally surround this change in DPS policy, we are still awaiting further details and guidance regarding Covid precautions from the district. This will include guidance on visitor and volunteer vaccination status; notifications regarding potential exposures and contract tracing; any changes in other Covid related precautions at school. We will continue to stress the importance of not coming to/sending your Bears to school with symptoms of illness.
Metro State Student Teacher Partnership – Your Bears may have mentioned seeing some new/additional faces in the building lately; that's because MSU Denver and Bromwell Elementary have entered into an exciting new partnership! Please join me in welcoming Roland Schendel from the School of Education and his teacher candidates who will be partnering with Bromwell as part of their practical course work. On Tuesdays we will have 11 teacher candidates begin working with students in literacy in grades 3, 4, and 5. On Wednesdays we will have 6 teacher candidates who will be focusing on other content or course work areas. This is an exciting opportunity for our students, Bromwell teachers and staff, along with MSU teacher candidates to all learn from one another.
Lockdown & Fire Drills – As many of you likely heard from your Bears in the past few weeks, Bromwell students and staff have been participating in school-wide, COVID-modified lockdown drills, and fire drills. The goal of these drills is to remind students about these safety procedures and have an opportunity to practice them. More information from DPS regarding these drills can be found HERE.
Read-A-Thon & Book Fair – Keep your eye out for Read-A-Thon Bingo cards coming home next week with additional book fair info! Our Bears will have fun reading related activities to complete during the first week of March.
This week at Bromwell – On Tuesday our 3-5th graders participated in our Science Fair (Project posters are up in the hallways); On Wednesday our 4th graders took a field trip to the Plains Conservation Center; and on Thursday several classes made art in the snow with their feet! Photos from the week are included below, and here's a link to the Art Video!
Weekly To Do's:
NO SCHOOL MONDAY & TUESDAY NEXT WEEK!