B Well Bulletin
Posted March 4, 2022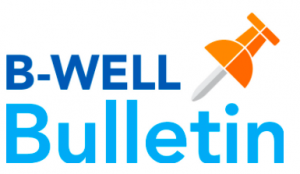 March 4, 2022
Important information, updates, and reminders included below!
Book Fair: Leftover e-Wallet Funds
March PTA & CSC Meetings
Bears Caught Showing Paws
Health Update
Calendar Planning:
March is Women's History Month
March 1-6 – Book Fair @ The Bookies (In-person and online @ thebookies.com)
March 7 – Spring Enrichment Registration Opens
March 8 @ 7:30pm – Monthly PTA Meeting (Via Zoom)
March 10 @ 4pm – Monthly CSC Meeting (Via Zoom)
March 13 – Daylight Savings (Set your clocks forward 1 hour)
March 17 – St. Patrick's Day (Wear Green or Bromwell Gear!)
CMAS Testing Mid-April (Details to come soon!)
Leftover E-Wallet Funds – Thank you to all who shopped at our Scholastic Book Fair at school this week as well as stopped by Bookies! And a huge THANK YOU to Mr. Johnson and Mr. Replogle for hosting read aloud on Wednesday at The Bookies. Remember, The Bookies portion of the Book Fair runs through 3/6 and all you need to do is let them know you are with Bromwell or if shopping online use code Bromwell22 at checkout. All online purchases will be delivered to your child next week. Our teachers also have book wish-lists at the store if you'd like to donate a book to your child's classroom.
If you still have money in your e-wallet with Scholastic, or the book fair didn't have a book your child wanted, head to the virtual book fair until 3/13 HERE. After the online fair closes, that money will stay in your Scholastic account until you decide to use or donate it.
PTA and CSC Meetings Next Week – We have both PTA and CSC Meetings coming up next week with important topics to cover/discuss. We welcome community involvement! PTA will be discussing spring fundraising, dine-outs, upcoming speaker series, outdoor improvements etc. CSC will be working to finalize the budget for the 22/23 school year and start discussion of enrollment targets and choice seat offerings. While we absolutely need and appreciate community input, it is important these meetings stay on-time and on track. If you have specific input relating to the aforementioned topics, please be sure to attend the respective meeting. Should you have concerns that are outside the scope of these committees or forums, Bromwell leadership would be happy to set up a time for discussion, either one-on-one or with a small group. With Covid-19 related restrictions being lifted, Bromwell's doors are open!
Bears Caught Showing Paws – You may have heard your Bear mention being "caught showing paws" lately. In addition to our monthly Bear Paw Awards, we are continuing to encourage our Bears to show the Bromwell values each and every day. Being caught showing paws is an opportunity for your Bear to be entered into a morning drawing each day and be recognized during morning announcements. The cards are rolling in! Our Bears are All In and showing PAWS throughout our school.
Health Update – With masks coming off it is important to keep your Bear(s) home if they are feeling sick. While the Covid landscape continues to change around us, there are still all sorts of non-Covid-19 illnesses that can make students and staff unwell. Please continue to do your part in keeping our community healthy!
Weekly To Do's:
Join us for the PTA Meeting – Tuesday 3/08 @ 7:30pm
Join us for our CSC Meeting – Thursday 3/10 @ 4pm