B Well Bulletin
Posted September 3, 2021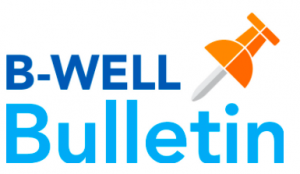 September 3, 2021
Important dates and information included in this week's Bromwell Bulletin!
CSC Vote/ E-Ballot
Bloom School Pictures
iReady Testing
Breakfast / Dismissal Updates
School Fees
Communication Outline
New Bromwell Staff
Bromwell is hiring!
Calendar Planning:
September 6th is Labor Day! NO SCHOOL!
September 14th @ 7:30PM PTA Meeting Zoom Link
September 27th NO SCHOOL (Non-Student Contact Day)
September 30th Bear Paw Awards – BRAVE
Collaborative School Committee (CSC) VOTE!!! Please vote for our next CSC Community member HERE by September 9th!
Bloom School Pictures – Mark your calendars! School pictures will take place October 21st and 22nd. More information to come ahead of picture day.
iReady Testing – iReady testing for students in both Math and Literacy will be taking place for grades 1-5 the week of September 13th. Kindergarten students will take the assessment the week of October 11th. New this year – Students will be also participating in iReady monthly growth checks. Assessment information will be communicated out during October Parent Teacher Conferences.
Breakfast in the Cafeteria – Starting Tuesday September 7th, breakfast will be served in the cafeteria; kids will continue to eat outside as weather permits. If your child is having breakfast at school, please be sure they are dropped off at either Kiss and Go or the Garden Gate at 7:55AM to ensure enough time for them to eat prior to the scheduled learning.
School Fees – School Fees will be posted through MySchoolBucks. In the coming weeks, look for beginning of the year school fees that will help cover your bear's instructional materials. The school fees will support the following:
Bridges Consumables (Workbooks) $5
iReady Assessment Platform $8
Guided Reading Library $5
SEL/Composition Notebook $2
Miscellaneous (i.e. Home Connections, EL Modules, Classroom Speakers, etc) $5
Total =$25
Communication Outline/ What to Expect – As a general rule, pertinent school-wide communication will come through the B-Well Bulletin. Classroom/Curriculum specific updates will come via weekly teacher emails. PTA related content will come through room-parent emails, and may be repeated in the B-Well Bulletin during fundraising efforts and volunteer recruitment pushes. It can be a lot of information to digest, but we want to ensure our community is informed. We will continue to streamline as the year progresses! If Flyer is not working for you, please check the Bromwell Website for the most recent Bulletin.
Dismissal Procedure Information – If your child is K,1 or 2 please pick them up at the alley gate (older siblings dismiss with younger siblings). 3rd-5th graders need to be picked up at the Garden Gate. Before leaving with your child please make sure to notify Bromwell staff at either gates.
Driving? Kiss & Go on East 3rd Place: Register HERE for Kiss n Go
Staggered Dismissal:
3:05 Kinder and siblings
3:06 1st and siblings
3:07 2nd and siblings
3:08 3rd and siblings
3:09 4th and siblings
3:10 5th
Bromwell is hiring! – We currently have open special education paraprofessional positions here at Bromwell! Please email Kelly Kelly_Urbanowski@dosk12.org if you would like additional information or feel free to forward along to anyone that might be interested!
Weekly To Do's:
No School Monday September 6th (Labor Day)
Submit your CSC Votes by September 9th.
Please join the monthly PTA discussion at 7:30PM September 14th