B-Well Bulletin
Posted March 11, 2022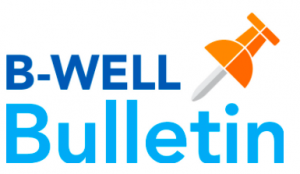 Important information, updates, and reminders included below!
Volunteering!
22/23 School Year Teacher Requests
Lunch/Recess scheduling changes
Superhero Scramble/ Spring Fundraising
Variable Weather
Calendar Planning:
March 13 – Daylight Savings (Set your clocks forward 1 hour)
March 13, 2022: Virtual Listening Session for BADEI, time TBA. Register here! or email allinforbromwell@gmail.com
March 17 – St. Patrick's Day (Wear Green or Bromwell Gear!)
March 23, 2022: BADEI Listening Session at Bromwell, 6:00 pm. Register here! or email allinforbromwell@gmail.com
March 28 – April 1 – NO SCHOOL – SPRING BREAK
April 4, 5 – NO SCHOOL (Professional Development Days)
April 4, 2022: Creating Community Meeting (virtual): 6:30 pm
Volunteering! Library, Lunch & Recess, Spring Fundraising – Calling all Bromwell past, present, and future Volunteers! We need you! To ensure lunch and recess run smoothly each day, we need 1-2 volunteers, ideally one for each grade. For Library to run smoothly, we need at least one volunteer, though two volunteers for the younger grades is very helpful as they need more help finding books. There will be additional opportunities to volunteer in the coming months with spring fundraising picking up soon! Our strong community flourishes with the help of parents, guardians, and relatives who generously give their time to ensure teachers can take a quick lunch break, the "doors" to our library are open, and students are supervised on the playground so they can play safely.
Teacher Requests for Next Year – As a reminder, requests for specific teachers for students for the following school year cannot be accommodated. Your Bear(s) will be assigned to a specific classroom based on an in-depth assessment of all students within each grade and specific student needs; placing students in each room is based upon a collaborative effort between each student's current teacher, small group instructor, interventionalists, and future teachers. We strive to create classroom groups that will benefit all students and ensure the success of the collective, therefore specific requests cannot be accommodated.
Lunch/Recess scheduling changes – We are starting a transition to a new lunch/recess schedule over the next two weeks, with a plan to have the new schedule in place after spring break. The new plan will have closer grade levels sharing time on the playground and field (1st & 2nd together, 3rd & 4th together) and will also have both Kindergarten glasses and ECE eating lunch in the cafeteria. Updated volunteer Sign-Ups will be made available to parents once new times are in-place.
Superhero Scramble/ Spring Fundraising – Save the date! The second annual Bromwell Superhero Scramble and Celebration is coming up next month at the end of April! Every Bromwell bear will run during the Superhero Scramble on April 29th and the event will be paired with our online auction the entire week of April 25th. Stay tuned for a call out for sponsorship opportunities and auction items for our online Superhero Celebration. The PTA is excited to bring back this school wide event which raises funds that directly benefit our Bears. Want to get involved? It takes a big team to help make the fun run happen. Contact Tracy Killian at tlkillian74@gmail.com if you are available to join the spring fun run team!
Variable Weather – As we enjoy a quintessential Colorado winter/spring, it is important that Bears come to school prepared, and pick-up and drop off procedures are followed. If it is 21 degrees or warmer, students will be outside for recess. Please be sure they have warm layers, hats, gloves, and boots if there is snow so they can enjoy outside time. When we have inside mornings, please be sure to drop your Bear(s) off at Kiss N Go if you are driving, walkers can come to the garden or alley gates, and only students who are late can come to the front door.
Weekly To Do's: