B-Well Bulletin
Posted March 24, 2022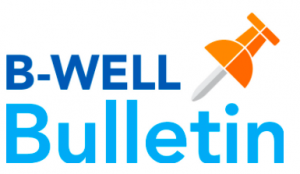 Important news, updates and information included in this week's Bromwell Bulletin!
Lost & Found Outside TODAY!!!
Kona Ice This Friday!!! 3/23
Art Show at Starbucks
New Lunch Schedule
New Dismissal Time
Teacher Data Digs Day 4/5
MSU Supports
Superhero Scramble Update
Auction Items Reminder
Important Dates for the Remainder of the School Year!
Art Show at Starbucks – Art Show at Starbucks! Every Bromwell student in grades K-5 (by end of day 3/18) will have a piece hanging at our neighborhood Starbucks (3rd & Columbine)! Please come by and enjoy the show through April 5th. Please thank Starbucks and our parent volunteers for hosting our Art Show. If you cannot find your child's art please email sarah_duffy@dpsk12.net and she will help you find it. Thank you to our parent volunteers for framing, doing inventory, and hanging art, Kara Wefel, Amy Everard, Becky Ralston, Stacy Herzog, Lexie Parker, Emily Peros, Jamie Winter, Jessica Craig and the Art Committee. Interested in joining the Art Committee, or helping with take-down, please email Sarah_Duffy@dpsk12.net.
New Lunch Schedule – As noted previously, we will be starting a new lunch schedule following Spring Break. New volunteer sign-ups will be available soon. Please find the updated schedule below. ECE will be joining Kinder's lunch schedule as we move toward the end of the year!
Kinder 11:00-11:45 – Cafeteria 11:00-11:25; Recess11:25-11:45
1st & 2nd 11:25-12:10 – Cafeteria 11:25-11:45; Recess 11:45-12:10
3rd & 4th 11:25-12:10 – Cafeteria 11:45-12:10; Recess 11:25-11:45
5th 11:45-12:30 – Cafeteria 12:10-12:30; Recess 11:45 – 12:10
We realize lunch will be later for some and earlier for others as compared to pre-spring break, so please use the next week to adjust your Bear's eating times if it would be helpful! You may also send along a healthy snack with your Bear if they tend to get hungry mid-morning or mid-afternoon! Finally, on the lunch front, the salad bar will be returning after Spring Break. Bears will soon be able to choose their daily fruits and veggies again. So much good news!
New Dismissal Time – We are doing everything we can to ensure the last 8 weeks of school for the year maximizes learning, is safe for all students, and supports our community. In that vein, following Spring Break, ALL students will be dismissed at the same time, 3:10pm, each day. As students no longer need to be cohorted for dismissal, we can move through the hallways together, allowing teachers to keep track of their students and usher them to the appropriate pick-up spot. This means that parents should arrive NO EARLIER THAN 3:12 to Kiss & Go, as there will be no students to pick up before then, and parking in the Kiss & Go lane is not allowed. As a reminder, please be as efficient as possible with buckling kids once they are in your car.
Teacher Data Digs Day April 5th – On the Tuesday before we all come back to school, our teachers will be collaborating with one another on another impactful Data Dig Day! They will be taking time to look at each student's process, test data, and measures collected since the last data day on January 18th, and they will be creating new learning goals for all students. Be on the lookout for communication from your child's Teacher and Small Group Teacher around Friday, April 6th about what your child's learning goals will be for the remainder of the year.
MSU Supports @ Bromwell – We have beeb grateful to have our student teachers from MSU in the building every Tuesday. When we return from Spring Break, our upper classes will start CMAS testing. During that time, our student teachers will focus on the lower grades (K-2). So if your Bear mentions a "new" teacher pulling them for small groups, it is likely our teachers from MSU!
Superhero Scramble – On Monday, April 11, the Fun Run web-based fundraising pages for our bears are going live! This year, your bear can get one time or per lap donations. The PTA is working on getting some cool prizes for the top 3 lap runners, top 3 fundraisers and top 3 number of donations this year. Weekly wheel drawings will also be happening this spring starting the week of the April 11. Does your bear want to pound the pavement for one time or per lap donations this year? Attached is a pledge sheet they can use for friends, family or neighbors which can be added to their page.
Call for Auction Items – For the upcoming auction, we are continuing to collect some AMAZING silent auction donations. Do you want to get away to the mountains to a fabulous condo at Keystone? Does your bear want to be "Vet for a Day" or "Rule the School" as principal for a day? These are just some of the examples of items this year. We will also be featuring our Bromwell "Team Experiences" with various teachers and staff and have the always popular buy-a-share parties. Have any questions? Please contact one of our Spring Fun Run/Auction Team Committee Members: Heather Gragg, Shawn Williams, Lexie Krohn-Parker, Andi Debick, Christina Drossos, Jennifer Goethals, Charlotte Olsen or Tracy Killian.
Repost of Upcoming Spring Dates!
March 28 – April 1 – Spring Break NO SCHOOL
April 4 – Professional Development Day (District) – NO SCHOOL
April 5 – Data Digs Day (Bromwell) – NO SCHOOL
April 6 – Spring Enrichment Starts
April 11 @ 6-8pm – Parent Speaker Series (Details to come)
April 11-14 – CMAS Testing (Language Arts) – 3rd, 4th, 5th Grades
April 11-12 – DINE OUT @ Choo
April 12 @ 8:30am – PTA Meeting @ Bromwell
April 14 @ 4pm – CSC Meeting
April 18-21 – CMAS Testing (Math) – 3rd, 4th, 5th Grades
April 24-25 – Mother's Day Shopping @ Kendra Scott
April 25 – Fun Run Pledge Drive Kicks-Off
April 25-28 – CMAS Testing (Science) – 5th Grade Only
April 27 – DINE OUT @ Olbio's Pizza
April 28 @ 8:30am – Principal Coffee
April 29 – Superhero Scramble Fun Run @ Bromwell (During school hours)
May 6 @ 4:30-6:30pm – LEAVE YOUR MARK Celebration @ JW Marriott Cherry Creek (All are welcome)
May 10 – PTA Meeting and End of Year Celebration
May 12 @ 4pm – CSC Meeting
May 12 (TENTATIVE) – Talent Show
May 19 (TENTATIVE) – 4th Grade Concert
May 20 – NO SCHOOL for ECE (Parent/Teacher Conferences)
May 25 @ 10-11am – Kindergarten Continuation
May 26 @ 9:30am – ECE Continuation/Show
May 30 – Memorial Day – NO SCHOOL
June 1 – 5th Grade Continuation (Last day of classes for 5th Grade)
June 3 – Last Day of School – 12:45 Dismissal
We hope that everyone has a WONDERFUL Spring Break and we can't wait to see everyone back at school April 6th!