B-Well Bulletin
Posted April 7, 2022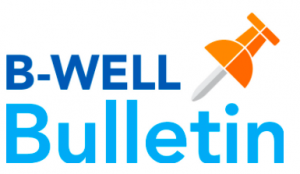 April 7, 2022
Important news, updates and information included in this week's Bromwell Bulletin!
Highlights:
Speaker Series & "State of the Den" (April 11 @ 6pm)
New Recess & Lunch Info
RSVP for our Leave your Mark Celebration (May 6th)!
Reminders:
Our New School-Wide Dismissal time is 3:10!
CMAS Testing this Month + Related Library Changes
Art is up at Starbucks until the 18th!
Important Dates for the Remainder of the School Year!
This Monday, April 11 from 6-8pm, Bromwell is hosting a virtual Parent Speaker Series led by the Educational Access Group. This is free to all families! This seminar will focus on how the brain develops, functions, and is impacted by stress and trauma. The presenters will discuss how stress can be both positive and negative in our children's development and how adults can better understand and support children in regulating, building skills and forming relationships. Content will be based in both the Neurosequential Models of Education and Therapeutics as well as on everyday application with youth and educators. Principal von Weise will also lead our first "State of the Den" to discuss where things stand, and where we hope to be with 8 more weeks of school left this year! (link will be send ahead of the event for easy access)
Recess & Lunch Updates – As noted previously, we have rolled out a new recess and lunch schedule for all of our Bears for the last 8 weeks of school. While we are working out a few kinks, this new plan will most definitely have a positive impact school-wide. There are new volunteer sign-up times that can be accessed HERE: Kinder, 1st & 2nd, 3rd & 4th, 5th
Additionally, we have new resources available to our community volunteers that outline lunch and recess expectations; this includes additional info to help volunteers manage any issues or conflict on the playground. Also on the lunch front – please find the April menu attached! Finally, a HUGE SHOUT OUT to our amazing community for pushing the issue of much needed repairs on our school grounds. Thanks to many parents actively engaging with the district, we were finally able to see our concrete repaired, our gaga pit resurfaced, new benches installed, and removal of loose gravel. While these changes aren't groundbreaking, they most definitely make the playground safer for all!
The LEAVE YOUR MARK Celebration is just around the corner! We are so excited to finally be able to gather, celebrate, and honor those who have had a huge impact on Bromwell over years past. We truly hope to see everyone there and all are welcome! Please RSVP today!
Quick Reminders:
Our new school-wide dismissal time is 3:10. Please do not arrive to Kiss & Go earlier than 3:12 as students will not be available to pick-up. Our top priority during dismissal is that students are picked up safely and efficiently. If you plan to pick-up at Kiss & Go, please remind your Bears that they need to pay attention, look for your car, and get in and go as efficiently as possible. When we have cars stalled in the line it exacerbates an already challenging situation, and we aim to keep things moving through the neighborhood and get everyone on their way as quickly as possible.
CMAS testing will take place over the next three weeks; thus, our library schedule will be slightly disrupted. However, it is still our mission to ensure our Bears have new books in their hands when they are in need of them! Please be sure to keep track of library books that come home and send them back once your student is done with them. We have a few titles that are in very high demand and want to keep them in circulation!
Our Bear's Art will stay up at Starbuck on 3rd & Columbine until April 18th! Be sure to check it out!
Repost of Upcoming Spring Dates! (New events noted in RED)
April 7 @April 11 @ 6-8pm – Parent Speaker Series & "State of the Den"
April 11-14 – CMAS Testing (Language Arts) – 3rd, 4th, 5th Grades
April 12 @ 8:30am – PTA Meeting @ Bromwell
April 14 @ 4pm – CSC Meeting
April 18-21 – CMAS Testing (Math) – 3rd, 4th, 5th Grades
April 25 – Fun Run Pledge Drive Kicks-Off
April 25-28 – CMAS Testing (Science) – 5th Grade Only
NEW – April 26 – 2nd Grade Field Trip to DU/Newman Center
April 28 @ 8:30am – Principal Coffee
April 29 – Superhero Scramble Fun Run @ Bromwell (During school hours)
May 6 @ 4:30-6:30pm – LEAVE YOUR MARK Celebration @ JW Marriott Cherry Creek (All are welcome)
May 10 – PTA Meeting and End of Year Celebration
May 12 @ 4pm – CSC Meeting
May 12 (TENTATIVE) – Talent Show
May 19 (TENTATIVE) – 4th Grade Concert
May 20 – NO SCHOOL for ECE (Parent/Teacher Conferences)
May 25 @ 10-11am – Kindergarten Continuation
May 26 @ 9:30am – ECE Continuation/Show
May 30 – Memorial Day – NO SCHOOL
June 1 – 5th Grade Continuation (Last day of classes for 5th Grade)
June 3 – Last Day of School – 12:45 Dismissal