B Well Bulletin
Posted April 23, 2022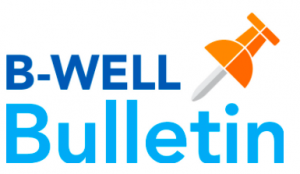 Important information regarding our Fun Run and Silent Auction happening next week included below!
FUN RUN / Superhero Scramble – Friday April 29!!! Run @ 9-noon; Pep Rally @ 2pm. Both the run and pep rally will take place on Bromwell's campus. We are planning to have all of our Bears run and hope to have lots of volunteers and supporters to ensure a safe and fun event for everyone (sign up to volunteer HERE)!
Schedule:
Wave #1: ECE and 5th Simpson 9:00-9:15
Wave #2: K Ford & 5th Ray 9:25-9:40
Wave #3: K Fiegl & 3rd Mak 9:50-10:05
Wave #4: 1st Duran & 3rd Mr. J 10:15-10:30
Wave #5: 1st Iverson & 4th Mr. R 10:40-10:55
Wave #6: 4th Rimkus, 2nd Walker & 2nd Pickle 11:05-11:20
Every Bear has an active fundraising page. Our school-wide goal is to raise $100,000. Each Bromwell Bear raising $300 helps us meet our goal and every donation counts! Donations can either be one-time, or based on completed laps. Last year the average laps run was 24!
Our Pep Rally will also include a new/gently used book drive for our library, preview of several auction items, a taco truck, awards for laps run and donations received, and kona ice! We hope everyone can make it!
Online Auction – Monday April 25 – Friday April 29 @ 10am. Our spring fundraising drive also includes our annual auction, which will be online again this year. We will have some great stuff to bid on this year including mountain get-aways, teacher experiences, grade-level gift baskets, our Roving Dinner Party, and much more! The QR code to access the Memberhub auction page is attached, and please look for more info to come on Monday!
Repost of Upcoming Spring Dates!
April 24-25 – Pre-Mother's Day Shopping @ Kendra Scott
April 25-29 – Online Silent Auction
April 25-28 – CMAS Testing (Science) – 5th Grade Only
April 26 – 2nd Grade Field Trip to DU/Newman Center
April 28 @ 8:30am – Principal Coffee
April 29 @ 9am-noon – Superhero Scramble Fun Run @ Bromwell
April 29 @ 2pm – Bromwell Pep Rally @ Bromwell
May 6 @ 4:30-6:30pm – LEAVE YOUR MARK Celebration @ Hotel Clio (Formerly JW Marriott)
May 10 – PTA Meeting and End of Year Celebration
May 12 @ 4pm – CSC Meeting
May 11 – 3rd-5th Grade Talent Show @ Bromwell (Date confirmed)
May 19 (TENTATIVE) – 4th Grade Concert
May 20 – NO SCHOOL for ECE (Parent/Teacher Conferences)
May 25 @ 10-11am – Kindergarten Continuation
May 26 @ 9:30am – ECE Continuation/Show
May 30 – Memorial Day – NO SCHOOL
June 1 – 5th Grade Continuation (Last day of classes for 5th Grade)
June 3 – Last Day of School – 12:45 Dismissal