B-Well Bulletin
Posted May 6, 2022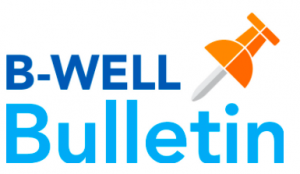 May 6, 2022
Important news, updates and information included in this week's Bromwell Bulletin!
Healthy Start Times
May CSC Meeting/Elections
Field Day
May Lunch Menu
First, a HUGE thank you to our community for a successful spring fundraising season! Through PTA's fundraising efforts, CSC's $200,000 grant request is now assured for the 22/23 school year. The Bromwell leadership team is thrilled to be able to continue their current educational model and maintain our wonderful specials programs. Thank you for being All-In! And we look forward to seeing many of you tonight at the Leave Your Mark Celebration!
Healthy Start Times – As you have probably seen/heard, for the 23/24 school year, Bromwell's start/end times will be shifting earlier (7:40am – 2:40pm). This is determined by the district due to bus availability, ensuring older students start later, and not a Bromwell decision. That said, we anticipate there being concerns, and want to ensure our community has an opportunity to voice those concerns. If you have questions or concerns, please join us for our CSC meeting on Thursday May 12th @ 4pm where we can field our community's input and elevate any concerns.
May CSC Meeting – We will be holding nominations this spring for new committee members and hope to have our 22/23 committee finalized prior to departing for summer. There are several positions open (2-year terms); including 3 community members/ parents or guardians of a student enrolled in the school. We will discuss the open positions in more detail during our meeting on May 12th and will start our call for nominations at that time. We will also be discussing enrollment, strategic planning for next year, and community engagement. We hope to see you there!
Field Day – Please mark your calendars! Field Day, an outside day of fun activities for all of our Bromwell Bears, will be held on May 27th. We will be in need of parent volunteers to help with races and stations. Please keep your eye out for opportunities to sign-up next week!
Reminders:
Breakfast from the cafeteria ends at 8:10. If your child wishes to have breakfast at school, please ensure they are dropped off before 8:10.
Repost of Upcoming Spring Dates! (New items in red)
May 6 @ 4:30-6:30pm – LEAVE YOUR MARK Celebration @ Hotel Clio (Formerly JW Marriott)
May 10 @ 7:30pm – PTA Meeting at Uno Mas on 6th Ave
May 12 @ 4pm – CSC Meeting (Zoom)
May 13 – Kona Ice After School!
May 11 @ 1pm – 1st-5th Grade Talent Show @ Bromwell
May 18 – BAKE SALE Round 2!
May 18 @ 5pm – DINE OUT @ Oblio's Pizzaria
May 20 – NO SCHOOL for ECE (Parent/Teacher Conferences)
May 25 @ 10-11am – Kindergarten Continuation
May 26 @ 9:30am – ECE Continuation/Show
May 27 – FIELD DAY!
May 30 – Memorial Day – NO SCHOOL
June 1 @ 5:30pm – 5th Grade Continuation (Last day of classes for 5th Grade)
June 3 – Last Day of School – 12:45 Dismissal