B-Well Bulletin
Posted May 12, 2022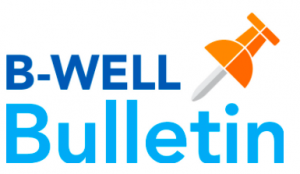 Important news, updates and information included in this week's Bromwell Bulletin!
CSC Meeting Today @ 4pm!
Field Day
Bake Sale Round 2
Summer Fest Specials Day
Classroom Moves
Lost & Found
Ross-Cherry Creek Library Update Attached!
Please join us today @ 4pm for our May CSC Meeting via ZOOM. We will be discussing healthy start times, enrollment, choice offerings, and open positions for the committee for next year. Please join if you can!
Field Day is Friday May 27th – Field Day is a fantastic Bromwell tradition, led by our wonderful PE teacher Kevin Edwards. There will be relays, obstacle courses, and sack races. The kids absolutely LOVE Field Day, and once again, we will need parent volunteers to make it happen. Lower grades will compete in the morning, and upper grades in the afternoon. Please be sure to apply sunscreen and send your Bear in cool clothing for the day. There are water balloons involved, so a change of clothes is a good idea as well! Please sign-up to volunteer HERE.
As a quick reminder, 5th grade will be hosting a second bake sale at the end of school on Wednesday May 18th. The funds raised will go toward their class gift. If you would like your Bear to have the opportunity to buy a treat, please make sure to send them with a small amount of money that day.
Thursday June 2nd is Summer Fest! – Summer Fest will be a day of extra Specials – Music, Art, PE, STEM & Tech! Our Specials Teaching team will have several fun activities for our Bears to enjoy. This day will involve extra time outside, so please be sure to dress your Bears accordingly and apply sunscreen!
Classroom Moves – As mentioned previously, several grades will be moving classrooms before the end of the school year. The purpose of reassigning classroom space is to better accommodate our students and grade-level needs. Our teachers are in various stages of prepping for their moves and will be in touch through their weekly communication to ask for help! Please keep your eye out for info regarding classroom specific "move dates"… we all know that there's power in numbers when it comes to moving!
Lost & Found – The Lost & Found is overflowing yet again. Everything will be donated this Friday, so please be sure to swing by or send your Bears hunting for clothes today/tomorrow.
Upcoming Spring Dates!
TODAY – May 12 @ 4pm – CSC Meeting via ZOOM
May 13 – Kona Ice After School!
May 18 (after school) – BAKE SALE Round 2!
May 18 @ 5pm – DINE OUT @ Oblio's Pizzaria
May 19th @5:30 PM 4th grade musical
May 20 – NO SCHOOL for ECE (Parent/Teacher Conferences)
May 25 @ 9:30-11am – Kindergarten Continuation
May 26 @ 9:30am – ECE Continuation/Show
May 27 – FIELD DAY!
May 30 – Memorial Day – NO SCHOOL
May 31st-Kinder field trip to the zoo / 5th grade to Pirate Cove
June 1 @ 5:30pm – 5th Grade Continuation (Last day of classes for 5th Grade)
June 2 – Summer Fest (Extra Specials!)
June 3 – Last Day of School – 12:45 Dismissal