B Well Bulletin
Posted May 27, 2022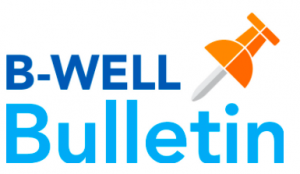 This is our second to last Bromwell Bulletin for the year!
Lunch Next Year
Library Books
Lunch for the 22/23 School Year – Next year, due to the expiration of the Federal Waivers that Nutritional Services has been operating under since the start of the pandemic, school lunches will no longer be free. Breakfast will remain free for the 22/23 school year. Elementary school lunches will cost $2.60, and will be recorded by student ID. Later this summer during registration/enrollment updates through the DPS student portal, families will have an opportunity to sign-up/qualify for free or reduced lunch.
School Library – We want to send a warm and genuine thank you to all of our library volunteers who made the library a reality this year. This was a 100% volunteer led effort and was no small task. We are thrilled our Bears had an opportunity to browse the shelves, find books of interest, or explore new authors. With that said, PLEASE be sure all library books are returned by Tuesday, May 31st at the latest. And please take a moment to check bookshelves at home one last time for any lost books. Thank you!
Remaining Upcoming Spring Dates!
May 30 – Memorial Day – NO SCHOOL
May 31 – Last Day to Order School Supplies from 1st Day
June 1 @ 5:30pm – 5th Grade Continuation (Last day of classes for 5th Grade)
June 1 @ 4-8pm – DINE OUT @ Chipotle (140 Steele St.)
June 2 – Summer Fest (Extra Specials!)/ Classroom Move Day
June 3 – Last Day of School – 12:45 Dismissal w/ KONA ICE & Walking Taco!