B Well Bulletin
Posted October 6, 2022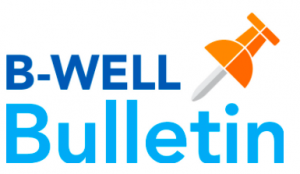 October 6, 2022
We hope that everyone can join us for some Bromwell fun and community contribution this weekend!  On Friday night, at 6PM, we will be hosting movie night on the field.  Order some Brother's BBQ, grab a blanket, and come watch Minions: The Rise of Gru under the night sky with your fellow Bears!  We hope you can also join us for our annual campus clean-up on Sunday!
Important Upcoming Dates:
October 7 @ 6PM – MOVIE NIGHT!
October 9 @ 9-11AM – Campus Beautification Day
October 11 @ 6PM – DPS Black Family Advisory Council Meeting (via Zoom)
October 11 @ 7:30PM – October PTA Meeting (via Zoom)
October 13-17 – FALL BREAK – NO SCHOOL
October 18 – DINE OUT @ Mici
October 18 @ 4:30PM – October CSC Meeting (at Bromwell & Virtually)
October 19, 20 – Fall Conferences
October 24 – Principal Lunch
CAMPUS CLEAN-UP UPDATES – We plan to have what will likely be our most productive campus clean-up day ever. Why? Because starting next week, our Bromwell school grounds will be locked in the evenings and on weekends. We have faced an on-going, uphill battle with keeping our grounds clean with heavy community use, and like many other DPS campuses, we will start locking our gates when school is not in session. While this will certainly be an adjustment for some community members, we need to ensure our grounds are a safe space for our Bears to play, and we look forward to having a poop and litter free field! Please sign-up HERE to help with our clean-up efforts this Sunday!
WALK & ROLL TO SCHOOL DAY – On October 12th, our Bromwell community will be celebrating National Walk & Roll to school day. We will even have Councilmember Chris Hinds at school to help direct riders, walkers, and any stray cars! If there are community members who are able to volunteer to help before school, please reach out to Nurse Brooke (brooke_goudy@dpsk12.net)!
BLOOM SCHOOL PICTURES – Bloom fall picture day galleries are live! You can access your Bears' photos HERE, and sign-up for picture retake day on November 1st. As a reminder, sign-up is required for retakes, and a caregiver must accompany your student(s).
OCTOBER PTA MEETING – Please join us virtually on October 11 @ 7:30PM via Zoom. Our meeting agenda can be found HERE.
COMMUNITY SURVEY – The "Your Voice/Tu Voz" DPS community surgery is live until October 9th. To date, we/Bromwell only have a 20% response rate, and we would love to hear from everyone! This survey provides important feedback to our school and district about communication and inclusion! It truly only takes about 3 minutes to complete. Please do so HERE.
TO DOs / REMINDERS –
Join us for Movie Night & Campus Clean-Up this weekend!
Complete the DPS Family Survey 
A printable copy of the October Lunch Menu is attached!
Walk or ride your bikes/wheels to school on Wednesday October 12th