B-Well Bulletin
Posted October 27, 2022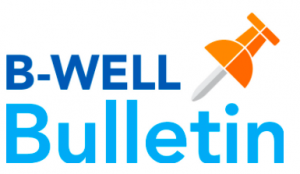 October 27, 2022
Important Upcoming Dates:
October 31 @ 1:45PM – Bromwell Community Crawl
November 2 – DINE OUT @ The Rotary
November 8 @ 6:00PM – Black Family Advisory Council Meeting
November 11 @ 8:30AM – PTA Meeting (In person & Virtually)
November 15-16 – Little Feet Shopping Event
November 15 @ 4:00PM – CSC Meeting (In person & Virtually)
November 16 – DINE OUT @ Bad Daddy's
November 18 – Annual Turkey Trot
November 18 – Final Day to donate to the Annual Fund!
November 21-25 – Thanksgiving Break – NO SCHOOL
EARLY DISMISSAL – Picking your student(s) up before dismissal is sometimes necessary. However, habitually picking up your student early is disruptive for them and their classmates. Our staff works hard to ensure instruction throughout the entire day to drive individual growth. When multiple students leave early at different times throughout the afternoon without prior coordination with staff, classrooms are being continually disrupted when students need to pack up and leave. We ask that if an early pick-up/dismissal is necessary, please first coordinate with your student's teacher. Ideally, you could plan to pick-up your student during "natural" breaks in the day (recess/lunch, before/after transitions to specials etc.). Another option is to aim for students "extra specials" day, when possible, to minimize disruptions to core subject instruction. Our educational expectation is that students attend school for the entire school day, every day that is possible. Thank you for your attention to this concern and understanding.
COLD WEATHER – We all know how crazy Colorado weather can be, and today is a great reminder to be prepared. A few quick reminders:
Please send your Bears with coats, hats, gloves etc. on cold/wet days; we will always aim to get students outside for recess if the weather is above 20 degrees
Speaking of coats, hats, and gloves – PLEASE LABEL anything your Bear will take off (our lost & found is already full) so items can be returned to your student if they are left behind
When weather results in you driving your Bear(s) to school instead of walking, please be sure to use Kiss & Go on the south side of school; students should NOT be dropped off at 4th & Columbine unless they are tardy (after 8:20AM)
The District will decide on whether school will be canceled or students will be dismissed early due to snow
SAFETY DRILLS & SECURE PERIMETER – We realize our recent "secure perimeter" is still very fresh in the minds of our Bears and our community. As we work to improve communications surrounding these events, families should have received a "test" text and/or email on Monday 10/24 at noon from DPS Dept. of Safety. Follow-up data reported that 92% of families were successfully notified via email, and 72% of families were notified via text (not mutually exclusive). If you did not receive a notification or would like to update your communication preferences, you can add contact information and change preferences in Infinite Campus (through the DPS Portal).
As a reminder, per our the DPS safety directive, Bromwell will conduct Fire Drills once a month (and no, there was no actual fire in the cafeteria this week), and Lockdown Drills once a semester. Drills can most certainly be unsettling following an actual safety event, but it is important to reinforce at home that these are only drills, and we practice to ensure our students and staff are prepared in the event of an emergency. Communication with your Bear at home can help calm fears and quiet rumors that can lead to additional stress. We will continue to share Lockdown drill dates ahead of time so families can prepare.
ROSS CHERRY CREEK LIBRARY UPDATE – We have received an update from our local library regarding the closure and next steps surrounding the structural issues with the building. Please find the full letter from Denver Public Library HERE. There will be an open house for the community on Thursday, November 3, from 8-10AM at Aviano Coffee on 2nd & Saint Paul.
FALL COMMUNITY CRAWL – Let's get festive!  Costumes, Bromwell Gear, or just regular clothes are all welcome.  Please be on the lookout for additional communication from your teachers regarding meetups/celebrations on October 31st!  We still need a few more volunteers; please sign-up HERE.  Our parade route is attached below!