B Well Bulletin
Posted November 4, 2022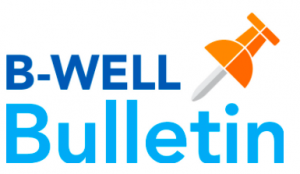 Important Upcoming Dates:
November 6 – Daylight Savings Ends (Clocks Back 1hour)
November 8 @ 6:00PM – Black Family Advisory Council Meeting
November 9 – Staff Appreciation Breakfast
November 11 @ 8:30AM – PTA Meeting (In person & Virtually)
November 15-16 – Little Feet Shopping Event
November 15 @ 4:00PM – CSC Meeting (In person & Virtually)
November 16 – DINE OUT @ Bad Daddy's
November 18 – Annual Turkey Trot
November 18 – Final Day to donate to the Annual Fund!
November 21-25 – Thanksgiving Break – NO SCHOOL
One of Bromwell's greatest strengths is the generosity, support, and kindness of our community. We rally around our students and staff to foster the growth and development of every single one of our Bears. We find opportunities to show appreciation of our teachers and staff. While it's not always easy, the support of our community is essential to continuing our success in our ever-changing public school landscape. With gratitude, we continue to look to our community and ask for support through fundraising and volunteerism. While it's easier for some to give monetarily or donate goods or services, others may favor giving their time. We believe everyone can help in some way.
If you can give a monetary gift during our Fall Annual Fund fundraising effort, please do so HERE (if you haven't already). We always aim for 100% participation; no gift is too small!
If you can give your time, we have several volunteering opportunities available:
Spring Auction – We are aiming to bring back the in-person auction this year, but we need help! If you can volunteer time, have a great idea for space, or any other input, please reach out to nileybarros@gmail.com
Lunch Duty – Ah lunch duty. Yes, it's a little loud, sometimes a little rowdy, but more adults help tame our excited Bears. If you, or anyone you know can spare 45 minutes in the middle of the day, we would love the help! All you need to do is pass a quick background check!
Library – Look out for a new library sign-up coming soon. Even more exciting, our Kindergartener's will start using the library soon. It's always a fun place to volunteer (and far quieter than the cafeteria).
Turkey Trot – We will continue our Friday-Before-Thanksgiving-Break tradition of our Annual Turkey Trot. This is on-campus. Kids get to run. It's fun. We always need a few extra hands! Trotting will commence after lunch!
Also, a few friendly reminders:
School playgrounds are unsupervised until 8:00 (staff is helping with breakfast between 7:55 – 8:00). Staff will be outside after 8:00, until the tardy bell at 8:15.
School gates are now locked during school, and before and after school. Gates are open during morning arrival and afternoon dismissal. They will be locked at all other times.
Parking spots in the parking lot off 4th and along the alley fence are assigned to our teachers and staff. These spots are not for parent or visitor use.
Finally, please join us for our in-person November PTA Meeting on Friday November 11 @ 8:30. If you can't make it in-person, please join us virtually. And if translation services are needed, please be sure to email bromwellpta@gmail.com before November 7. Here's a link to the agenda, and we look forward to seeing you there!
Thank you to our amazing community!