B-Well Bulletin
Posted November 18, 2022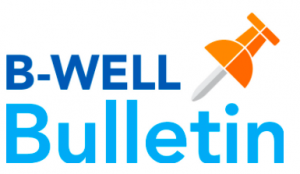 Important Upcoming Dates:
November 18 – Final Day to donate to the Annual Fund!
November 21 – Winter Enrichment Registration
November 21-25 – Thanksgiving Break – NO SCHOOL
November 31 – Bear Paw Awards
December 1-10 – Bookies Book Fair
December 5-16 – Holiday Drive (Coats, Cans, Gift Baskets)
December 8 – Kendra Scott Shopping Event
December 12-16 – School Spirit Week
December 13 @4:00PM – CSC Meeting (in person & virtual)
December 13 @7:30PM – PTA Meeting (virtual)
December 15 @9:00AM – Principal Coffee
December 15 – Bear Paw Awards
December 19 – January 3 – Winter Break, NO SCHOOL
Friday December 18 is the final day to donate to the Annual Fund! We are so close! We are up to 80% participation school-wide. Let's finish these last days out strong and get to 100% participation!!!
HEALTHY START TIMES – As many of you know, Bromwell is anticipating a new start time for the 23/24 school year. This has resulted in some ire and angst amongst teachers and staff, and parents and guardians due to logistical challenges (associated with starting earlier or later) of getting students to school, picking up after school, being at work, DiscoveryLink waitlists, after school activities, student focus and learning too early or too late in the day… and the list goes on! The change in start time was not a Bromwell decision, but rather an assignment from the district. If you have concerns, and you would like your voice to be heard at the district level, please find additional information regarding the upcoming meeting HERE.
WINTER ENRICHMENT – It is time for enrichment registration yet again! We are thrilled to have many programs returning this session that were very popular this Fall. Registration opens Monday, November 21 @ 6:00AM and runs through December 8. Please find the winter program brochure HERE.
LOST & FOUND – A quick reminder! The lost and found is full! Please swing by to collect any lost items before the end of November – we will be donating everything that remains at the end of the month.
THANKSGIVING BREAK – As we head toward the thanksgiving holiday, and a short break from school, we would like to extend a heartfelt thank you to our teachers, staff, parents, caregivers, and our students.  What sets Bromwell apart is the kindness, gratitude, and selflessness that is core to so many within our community.  Thank you to everyone who continues to show up for each other, each day, to make Bromwell a wonderful place to be.  We wish you all the happiest of Thanksgivings, and look forward to finishing 2022 out strong when we return!