B Well Bulletin
Posted December 8, 2022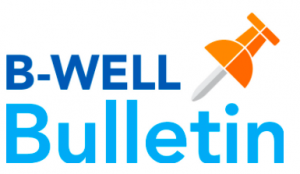 December 8, 2022
Important Upcoming Dates:
TODAY – Winter Enrichment enrollment deadline
TODAY – DINE OUT @ Smashburger
TODAY – Kendra Scott Shopping Event (+ online 12/9)
Through December 10 – Bookies Book Fair
Through December 13 – Holiday Drive (Coats, Cans, Gift Baskets)
December 12-16 – School Spirit Week
December 13 @4:00PM – CSC Meeting (in person & virtual)
December 13 @7:30PM – PTA Meeting (virtual)
December 15 @8:30AM (new time!) – Principal Coffee w/ Diane Olson
December 19 – January 3 – Winter Break, NO SCHOOL
We have a busy week ahead before we break for the holidays and New Year. We are looking to our community to help us spread some more holiday cheer!
BOOKS – Everyone has hopefully received communication from your classroom liaisons regarding the book fair at our local bookstore, The Bookies. Many teachers have classroom wishlists, and our entire community is able to help fulfill out library's wishlist to complete some sets and replace lost or damaged books for our most popular series. If you've done a library shift you know how fast these books fly off our shelves! Please find wishlists HERE.
GIFT BASKETS – We are hoping to assemble several gift baskets for our Bromwell families who are in need this holiday season. If you would like to sign up to donate gift basket items, or would like to help will assembly, please do so HERE.
COATS, HATS, MITTENS & CANS – Please bring any new or gently used coats, hats, and gloves for our winter drive! We are also running a canned and dry-goods drive. Please be sure to drop off items by 12/13 so we can get them to Valverde Elementary School before we are off for winter break! If you would like to help collect items from Kiss & Go, please sign-up HERE.
SCHOOL SPIRIT WEEK – The fun stuff!!! Let's help our kiddos have a super awesome amazing week before the break! Spread the cheer and participate in spirit week:
Monday – Mismatch Day (just what it sounds like, mix it all up!)
Tuesday – Sports Day (wear gear for your favorite sports team)
Wednesday – Favorite Hat Day
Thursday – PJ Day
Friday – Bromwell Spirit/Gear Day!
WINTER VOLUNTEER SIGN-UPS, LUNCH & LIBRARY – Lunch Duty signups are now available: ECE&K, 1&2, 3&4. Library signups are available HERE.
COMMUNITY ENGAGEMENT OPPORTUNITIES – We have a meeting packed week next week, and understand it is difficult to make any or all of the meetings! We have broken down what's up for discussion next week so you can hopefully attend the meeting that works best for you:
CSC Meeting (12/13 @4:30PM, Virtual) – Enrollment projections for the 23/24 school year will be discussed. Follow-up on choice ranking discussion for 23/24 school year. Regarding start times for the 23/24 school year, please expect a community-wide update as soon as we hear back from the district regarding our appeal.  
PTA Meeting (12/13 @7:30PM, Virtual) – Fundraising update, brief CSC recap, update from Bromwell SLT, and 5th grade dance discussion.  
Principal Coffee (12/15 @8:30AM) – We will have a special guest, Dr. Carrie Olson, DPS Board of Education, District 3, in attendance for our December Principal Coffee. If you are unable to attend to ask questions in-person, please submit questions HERE.
BEAR BIZ – Keep your eye out for Bear Biz magnets coming home in backpacks. Check out the directory for some awesome local businesses helping support Bromwell through donations to our school!
A MOMENT OF REFLECTION – While many of us are able to experience and embrace the happiness of the holiday season; for others this can be a stressful, challenging time. As our community comes together to give to others who are in need, we ask that you connect with your Bears, and help fill their hearts with kindness towards those who may have a different experience during the holidays.
LOST & FOUND – Last but not least, please check out the Lost & Found! Everything that was labeled with a name has been returned to its owner. Everything else is waiting to be reclaimed! Please take a look before we donate coats to kids in need!