B-Well Bulletin
Posted January 6, 2023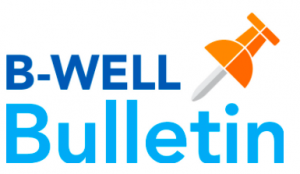 January 5, 2023
Important Upcoming Dates:
January 10 @ 4PM – CSC Meeting in person (and virtually)
January 10 @ 4:30 – HOME Basketball Game vs. Eagleton
January 11 – DINE OUT @ Hapa Sushi
January 13 @ 8:30AM – PTA Meeting in person (and virtually)
January 13 – February 14 – Round 1 School Choice
January 16 – Martin Luther King Jr. Day – NO SCHOOL
January 17 @ 5:30 – Home Basketball Game vs. Odyssey
January 25 – DINE OUT @ Chipotle
Happy 2023 to our entire community! We are thrilled to be back at school to continue our amazing year! We have a fair bit of information to share below.
Volunteering @ Bromwell – Do you have a new or continued resolution to give back to your community this year? Volunteering at Bromwell is a wonderfully fulfilling way to do so! You do not have to be a parent; grandparents, aunts, uncles, neighbors are all welcome to volunteer at Bromwell (following a quick and free background check). Volunteers are hugely important and help keep our students engaged and safe!
January Culture Corner – There are many cultural events happening in Denver this month!
This month we honor the legacy of civil rights leader Martin Luther King Jr. DPS will be participating in the 37th annual Denver Marade, a one-of-a-kind event! The Marade begins at 9:30AM on Monday, January 16, at the MLK Jr. Statue in City Park; wear your Bromwell gear!
It is time to celebrate the Lunar New Year! 2023 is the year of the rabbit, and there are many fun events around Denver to celebrate! Celebrate at the Far East Center with three days of festivities, including lion dances, K-Pop, and cultural performances.
The 117th annual National Western Stock Show runs January 7-22. This part-rodeo, part-livestock show, and part-fair celebrates our state's agricultural heritage. Some of the special events include the Mexican Rodeo Extravaganza, MLK Jr. African American Heritage Rodeo, and the Pink Rodeo. The DPS Foundation has a code for discounted tickets that also support the foundation.
We recognize that the best resources are those that come from the members of the culture themselves. Please let us know if you want to share how you are celebrating this month!
"Healthy" Start Times – As shared in Principal Von Weise's December message, Bromwell's appeal to change our start time for the 23/24 school year was not granted. As it stands, we will proceed with our assigned start time of 7:40AM. We realize that this may impact your family/student's ability to attend Bromwell next year, and you may consider other schools. While the "early" times were largely assigned to Elementary schools, there are some schools within DPS with later start times. School Choice starts January 13. DPS Bell/start times are listed HERE.
School Choice – Speaking of School Choice – ALL INCOMING KINDERGARTENERS MUST CHOICE IN TO BROMWELL FOR THE 23/24 SCHOOL YEAR. That's right! Even is your Bear is currently at Bromwell for ECE, you MUST Choice in to Bromwell for Kindergarten. Choice opens January 13 @ 10AM. Our current choice priorities can be found HERE. More information regarding Choice & Enrollment can be found HERE.
Coat Drive & Gift Basket Success! – Thank you to everyone who brought in coats for our coat drive! We were able to provide Valverde Elementary School with a minivan full of coats and warm weather gear. I'm sure it all went to good use over the very chilly winter break. We are grateful to you all!
January PTA Meeting – Everyone is welcome in our PTA! Join us in person or via Zoom on January 13 @ 8:30AM to hear about our plans for winter and spring and learn more about ways that you can pitch in to help! Please email bromwellpta@gmail.com by 1/10 if you need interpretation assistance.
Give Back to Bromwell via MemberHub – As you know, our Bromwell PTA uses MemberHub for fundraising and communication. MemberHub has launched the "Givebacks Genie" where you can earn cashback for YOU and Bromwell without even trying.  Givebacks is a magical new cashback program for families and schools.  You could earn hundreds a year while also supporting Bromwell just by shopping as you normally do.  Bromwell PTA gets a $5 bonus for each new active supporter, and YOU will receive $5 cashback for each new active backer you refer! So please join here and then share your personal referral link!
Updates to SchoolChoice and Universal Preschool (UPK) Colorado
ECE3: Apply on the DPS SchoolChoice website at https://dps.schoolmint.net/ between January 13 and February 14 (closes at 4:00 pm). Select up to 12 programs to which you would like to apply.
ECE4: Apply on the DPS SchoolChoice website at https://dps.schoolmint.net/ between January 13 and February 14 (closes at 4:00 pm). You will not select schools here– your school choices will not be recorded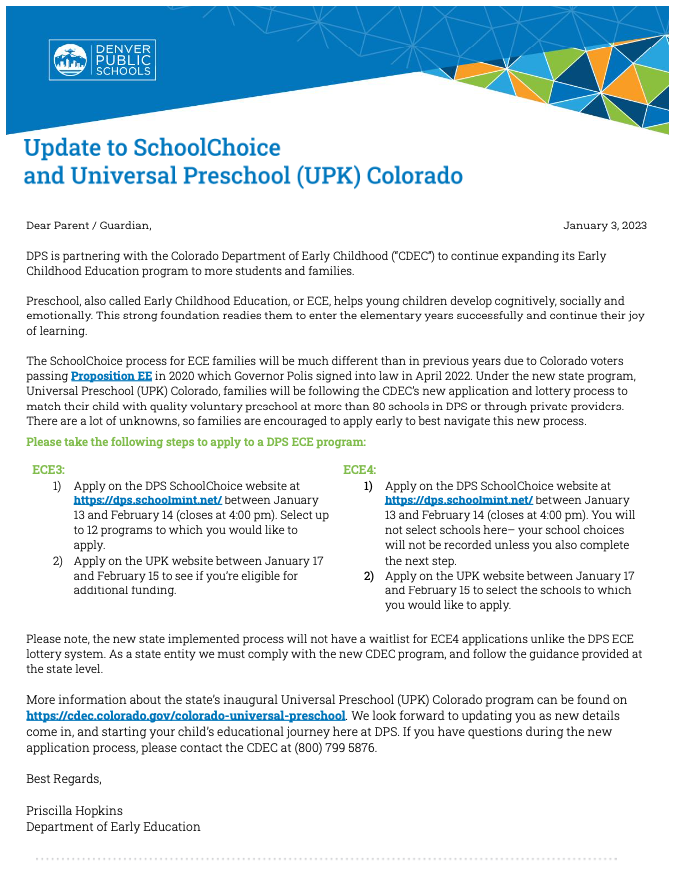 Finally, if you missed the Principal Coffee with Dr. Olson in December, you can find notes from the meeting HERE.