B- Well Bulletin
Posted January 19, 2023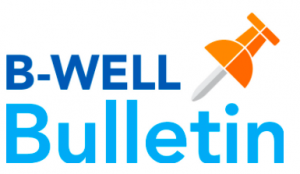 January 19, 2023
Important Upcoming Dates:
January 24 – DINE OUT @ Campus Lounge
January 31 @ 4:00PM – CSC Meeting (in person & virtually)
January 31 – Final day to join PTA this year
February – Black History Month
February 1 @ 8:00PM – Speaker Series: Jenn Wert (virtual)
February 2 @ 4:30 – Home Basketball Game vs. Lowry
February 7 – DINE OUT @ Cherry Cricket
February 13 @ 3:00 – 5th Grade Bake Sale after school!
February 15 @ 7:30 – PTA Meeting (Virtual)
February 17 – 21 – NO SCHOOL
February 27 – Read-a-thon / Bookfair starts
Spring Enrichment – The enrichment office wants to hear from you! After several community members asked how to expand our after school enrichment offerings, DPS listened! They are interested in hearing from our community regarding which courses we would like to see offered this spring. Please complete their survey by tomorrow/ Friday (1/21) HERE.
School Choice – Round 1 School Choice for DPS in open. If you've heard from new families interested in attending Bromwell, please let them know that we are holding several school tours over the coming weeks and would love to have all our prospective families join us! Tours are a great opportunity to showcase the many wonderful things about Bromwell.
Phones & Smart Watches – Just a quick reminder! Per our Bromwell Handbook, phones must be kept in backpacks or with teachers during the school day. They should not be used during school hours. Smart watches should only be used for telling time during the day; no texting, calling, playing music/games, or taking pictures should occur. If students are unable to abide by these rules, teachers will hold on to watches during the day, or ask that students keep them in their backpacks as well. Please find more information in our Community Handbook HERE.
Join the PTA! – If you would like to vote for board members for next year's PTA, or be considered for a board position yourself, you must be a PTA member. Please join HERE. We will be nominating community members for open positions in the coming weeks. A list of board member positions can be found HERE.
Upcoming CSC Meeting (1/31 @4PM) – Our next CSC Meeting will involve discussions surrounding next year's budget and school priorities. If you would like your voice to be heard, please plan on joining either in-person or virtually!
Speaker Series (2/1 @8PM) – Jenn Wert, Nurturing Connection in a Disconnected World: Upping Social and Emotional Intelligence at Home. Our community has been kindly invited by the Lincoln Elementary community to join them for their upcoming speaker series. More information and registration can be found HERE.
Bear Biz Featured Business – Our featured BearBiz this week is Ku Cha House of Tea, because who doesn't nee some "Be Happy" tea to get through the next cold front! Try some amazing new tea and if you love it, write a review and include #BearBiz!
and a few reminders…
Bromwell's Multicultural Celebration! (3/16) – Please save the date! We will again be hosting our multicultural celebration on March 16th. Please sign-up to share your culture and/or help with planning HERE.
Volunteering @ Bromwell –
CMAS Testing in March & April – We wanted to share CMAS testing dates as soon as possible… so FYI! 5th Graders will start testing the week of March 21st. 3rd, 4th, and 5th Graders will be testing with weeks of April 11th & April 17th.