B-Well-Bulletin
Posted January 26, 2023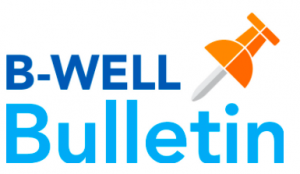 January 26, 2023
Important Upcoming Dates:
January 31 @ 4:00PM – CSC Meeting (in person & virtually)
February – Black History Month
February 1 @ 8:00PM – Speaker Series: Jenn Wert (virtual)
February 2 @ 4:30PM – Home Basketball Game vs. Lowry
February 7 – DINE OUT @ Cherry Cricket
February 10 – 5th Grade Dance
February 13 @ 3:00 – 5th Grade Valentine's Bake Sale after school!
February 14 – FINAL DAY Round 1 School Choice
February 15 @ 7:30 – PTA Meeting (Virtual)
February 17 – NO SCHOOL
February 23 – Bear Paw Awards
February 27 – Read-A-Thon Week
February 28 @ 7:30PM – State of the Den (virtual)
March 3 – Scholastic Book Fair Starts
Healthy Start Times – Well, this discussion is not over… yet! Members of the DPS Board have recently acknowledged the challenges the proposed changes to school start times have created for families and staff, and are considering voting to rescind the resolution. If you would like your voice to be heard on the matter, the board wants to hear from you. Please reach out to Tay_Anderson@dpsk12.org and Carrie_Olson@dpsk12.org today, before the Board meeting this afternoon (1/26 @ 4:30PM).
Intent to Return to Bromwell – As you are likely aware, Round 1 School Choice is currently open. As some families may plan to move schools next year, it is important for school leadership and our CSC to understand which students/families intent to return to Bromwell for the 23/24 school year. This information helps lay the ground work for offering open seats to students on the choice list once the Round 1 window closes. We ask that ALL FAMILIES complete an intent to return form electronically before February 14 (when the Round 1 choice window closes). If you are currently unsure, please still complete the form and we will following up in the spring! Please find the form HERE. If you have any questions, please reach out to the front office!
Phones & Smart Watches – Just a quick reminder! Per our Bromwell Handbook, phones must be kept in backpacks or with teachers during the school day. They should not be used during school hours. Smart watches should only be used for telling time during the day; no texting, calling, playing music/games, or taking pictures should occur. If students are unable to abide by these rules, teachers will hold on to watches during the day, or ask that students keep them in their backpacks as well. Please find more information in our Community Handbook HERE.
Join the PTA! – If you would like to vote for board members for next year's PTA, or be considered for a board position yourself, you must be a current PTA member. Please join HERE. Our entire community will have an opportunity to submit nominations for next year's board nest week. A list of board member positions can be found HERE.
Bear Biz Featured Business – Our featured BearBiz this week is The Schlicter Team real estate agents. Considering buying or selling this spring? Check them out at schlichterteam.com. And don't forget, if you have a great experience, please write a review and include #BearBiz!
and a few reminders…
Volunteering @ Bromwell –
Upcoming CSC Meeting (1/31 @4PM) – Our next CSC Meeting will involve discussions surrounding next year's budget and school priorities. If you would like your voice to be heard, please plan on joining either in-person or virtually!
CMAS Testing in March & April – We wanted to share CMAS testing dates as soon as possible… so FYI! 5th Graders will start testing the week of March 21st. 3rd, 4th, and 5th Graders will be testing with weeks of April 11th & April 17th.