B-Well Bulletin
Posted February 2, 2023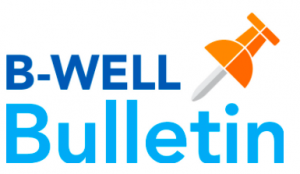 February 2, 2023
Important Upcoming Dates:
February is Black History Month
February 2 @ 4:30PM – Home Basketball Game vs. Lowry
February 7 – DINE OUT @ Cherry Cricket
February 10 – 5th Grade Dance
February 13 @ 3:00 – 5th Grade Valentine's Bake Sale after school!
February 14 – FINAL DAY Round 1 School Choice
February 15 @ 7:30 – PTA Meeting (Virtual)
February 17-21 – NO SCHOOL
February 23 – Bear Paw Awards
February 23-26 – Scratch Kitchen Fundraiser
February 27 – Read-A-Thon Week
February 28 @ 7:30PM – State of the Den (virtual)
March 1-3 – Scholastic Book Fair
Nominations for PTA Next Year – Interested in a PTA Board position next year? Know someone who would be a great fit for a Board role? It's nomination time! We have positions open and need the community's help and input. Please find the nomination form HERE.
Updates from our Front Office! – Two quick updates/reminders:
If your student is going to be absent, please notify your teacher AND call the attendance line @ 720-424-9380. Emailing the general attendance email no longer works. Absences with no notification will be recorded as unexcused.
Field Trips! All of our Bears will be going on field trips this year. Fees associated with field trip costs MUST be paid through MySchoolBucks (https://payonline.dpsk12.org).
GOTR Returns! – That's right, thanks to Ms. McEndree taking the lead, Girls on the Run will return to Bromwell this Spring, and we are in need of volunteer coaches. Help empower girls and inspire them to honor their voices, embrace their gifts and celebrate their strengths. As a coach, you will lead a team of 8-20, 3rd-5th grade girls through the fun, interactive Girls on the Run curriculum, while helping the girls train for a 5K. You and your co-coaches will meet with your team twice a week from March-May. Each practice is an hour and a half long. No running experience is required. If you are interested in coaching at Bromwell, please email Carolyn McEndree at carolyn_mcendree@dpsk12.net. To learn more about this amazing program, visit www.girlsontherunrockies.org or www.espanol.girlsontherunrockies.org.
Multicultural Night Update – On Thrusday, 3/16 from 4-6PM, we will host this free event filled with food, community, and fun. All are welcome! Race, ethnicity, and nationality just scratches the surface of identity or communities that one can belong to. Community and identity can encompass languages, holidays/festivals, countries where your family has lived, regional cultures right here in the US (Southwest, Northeast, even Colorado!), sports, the arts and so much more. Every family is different and special, and we encourage you to come and share! Please sign-up HERE.
Bear Biz Featured Business – Our featured BearBiz this week is fierce45! Looking for a workout that will keep you challenged and being part of a community that will keep you motivated? Look no further than fierce45.com, and your first two weeks are free! And don't forget, if you love it, please write a review and include #BearBiz!
and a few reminders…
Volunteering @ Bromwell –
Returning to Bromwell for the 23/24 School Year – Planning on returning to Bromwell nest year? Please find the intent to return form HERE. If you have any questions, please reach out to the front office.
Upcoming PTA Meeting – If you need translation services, please email bromwellPTA@gmail.com before 2/8.