B-Well Bulletin
Posted February 16, 2023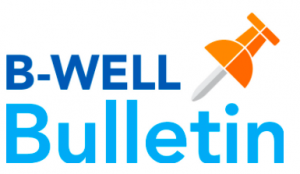 February 16, 2023
Important Upcoming Dates: (new dates highlighted)
NO SCHOOL – February 17 – Data Digs Day (Staff only)
NO SCHOOL – February 20 – President's Day
NO SCHOOL – February 21 – Professional Development Day (Staff only)
February 22 @ 6AM – Spring Enrichment Registration Opens
February 23 – Bear Paw Awards
February 23-26 – Scratch Kitchen Fundraiser
February 27 – Read-A-Thon Week
February 28 @ 7:30PM – State of the Den (virtual)
March 1-3 – Scholastic Book Fair
March 6 – Report Cards/ Interim Progress Letters
March 8 @ 8:15AM – Bromwell Science Fair
March 8 – DINE OUT @ Chipotle
March 9 – Happy Hour @ Cherry Cricket (Adults only)
March 14 @ 4PM – CSC Meeting (In-person & virtually)
March 15 @ 12PM – Principal Lunch @ Bromwell
March 16 @4PM – Multicultural Night
March 20 – Class Photos
STEAM Excitement – We have some very exciting news to share from Ms. McEndree! Our VEX Robotics kits have arrived! Bromwell STEAM was selected to participate in a Professional Learning Work Group for VEX Robotics, and in turn, students will have educational robotics kits to use during STEAM specials. Be sure to ask your Bears about what's new an exciting during their STEAM rotation. Also, Ms. McEndree will be selecting a group of students to compete in the DPS STEAM Expo this Spring! Stay tuned for more information.
Spring Enrichment – Registration opens 2/22 @ 6AM and runs through 3/7. Please find the Spring Enrichment brochure HERE. There are some awesome new enrichment options available for our Bears to try!
Yearbooks – It's hard to believe, but it's that time of the year again. If you would like to order a Bromwell YearBook, you can do so now HERE.
Read Across America, Book Fair & Spirit Week – Congratulations to our bookmark design winners Genevieve McQuarrie (2nd) and Luke Vicente (3rd). Every student will received a laminated copy of our winners' bookmarks. All of our Bear's bookmarks are on display in the front foyer. Be sure to check them out!
Reminder – here is the spirit week plan (2/27 – 3/3):
Wacky Monday – Reading takes you everywhere! Wear your wildest & wackiest outfit along with some crazy hair!
Neon Tuesday – Reading gives you a brighter future. Wear your bright and neon clothes.
Character Wednesday – Reading gives you character. Dress up as your favorite storybook character.
Pajama Thursday – Reading makes your dreams come true. Wear your pajamas to school!
Bromwell Spirit Friday – Reading makes you strong. Wear your Bromwell gear or colors to show how strong your school spirit is!
Visit our Book Fair homepage to learn more and get started with eWallet and online shopping: https://www.scholastic.com/bf/bromwell1
Sign-ups for Book Fair volunteers can be accessed HERE. Please keep your eye out for printed info on how to set up your Bear's e-wallet ahead of the fair.
Bear Biz Featured Business – Our featured BearBiz this week is the Colorado Center for Pediatric Learning Development (CCPLD). Located at 19th & Elm, CCPLD's mission is to remove the barriers to optimal functional development for children with disabilities by providing high quality treatment services and educational programs throughout Colorado. Please find more information on their website www.ccpld.com. 
and a few reminders…
Volunteering @ Bromwell –
Returning to Bromwell for the 23/24 School Year – Planning on returning to Bromwell nest year? Please find the intent to return form HERE. If you have any questions, please reach out to the front office.