B-Well Bulletin
Posted April 6, 2023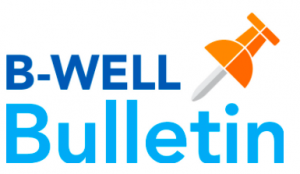 April 6, 2023
Important Upcoming Dates: (new items are BOLDED)
April 6 @ 3:45PM – HOME B-Ball Game vs. Isabella Bird
April 10 – April 21 CMAS Testing (Grades 3, 4, 5)
April 11, 12 – DINE OUT @ Chook
April 13 @ 4:14PM – HOME B-Ball Game vs. Academy 360
April 18 @ 4:00PM – CSC Meeting (In person & virtual)
April 20 – Stock the Teacher's Lounge (Sign-up)
April 20 @ 4:45PM – HOME B-Ball Game vs. Garden Place
April 26 – Administrative Professionals Appreciation Day
April 27 – Bear Paw Awards
April 27 – Lou Collective Shopping Event
April 30 @ 9-11AM – Bromwell Beautification Day
Auction Update – We have a new venue for the Auction!!! Same date and time, new location. Check out Skylight in the Historic Arts District. And to make things even more fun, we will have a live 90's cover band, Blink 90210!!! We also need a few more items to auction, specifically Buy-A-Shares. If you are willing to host, please reach out to Jodi Sewell (jmcgovney@gmail.com).
Superhero Fun Run – Fundraising pages are LIVE! Donors can make a one-time or per-lap contribution. Every little bit helps!​ Fundraising pages can be found HERE. If you would like to volunteer for the Fun Run, please sign-up HERE.
1st Day School Supplies – Crazy, I know. But it is once again time to place school supply orders if you would like to get supplies from 1st Day School Supplies. No hassle, easy ordering. They already have classroom specific supply lists! Orders can be placed HERE.
Bromwell Beautification Day – Our Spring clean-up is right around the corner! As we all know, many hand make light work! Grab your gardening gloves and rake and join us Sunday April 30! Sign-up for a specific job HERE.
Student Council Sock & Undie Drive!!! – Our Bromwell Student Council has a goal to collect 500 packages of new underwear and socks! Why are they asking for these. Clothes to Kids provides clothing for 100 DPS students everyday! Did you know….in 2022, Clothes to Kids Denver gave away more than 50,000 pairs of socks and underwear! All socks and underwear must be brand new and in original packaging,  and can be dropped off in the lobby or brought to your Bears' teacher. Let's support our amazing student council and make this happen! The drive will start April 10 and continue through April 21.
Culture Corner – April is Arab American Heritage Month! There are many great ways to celebrate and learn. Did you know that 313 million people speak Arabic? You can learn a few words in this video from the Denver Public Library. The Denver Public Library is having a special Arabic story time geared towards our youngest community members.
April is also a time for Easter celebrations. Denver Parks and Rec has some fun, free events at multiple locations around the city.
Finally, the month of Ramadan began on March 22 and will end on April 20. Ramadan is a month of fasting, prayer, reflection, and community celebrated by Muslims worldwide. Here is a list of beautiful children's books about Ramadan.
A few quick updates and reminders…
Spring Class Pictures – Bloom school photos are live and can be viewed/ ordered HERE. Orders placed before April 6 will ship free!
B-Well Garden Plot Lottery – Our Bromwell Garden Committee will be hosting a lottery for an opportunity to have a plot for the 2023 gardening season. If you are interested in having a plot, please fill out the google form by April 4!!!
Yearbooks – If you would like to order a Bromwell YearBook, you can do so now HERE. The deadline to order is April 21st.
Returning to Bromwell for the 23/24 School Year – Planning on returning to Bromwell next year? Please find the intent to return form HERE.