B Well Bulletin
Posted April 13, 2023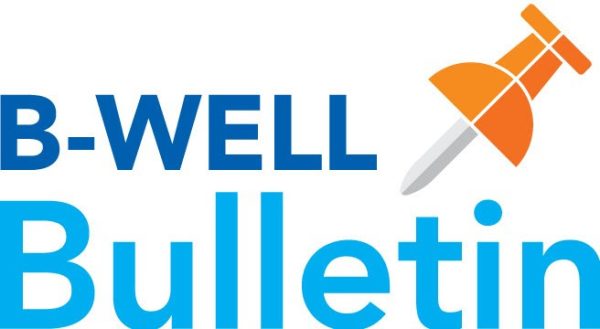 April 13, 2023
Important Upcoming Dates: (new items are BOLDED)
April 13 @ 4:14PM – HOME B-Ball Game vs. Academy 360
To be rescheduled (April 18 @ 4:00PM) – CSC Meeting
April 20 – Stock the Teacher's Lounge (Sign-up – a few items left!)
April 20 @ 4:45PM – HOME B-Ball Game vs. Garden Place
April 21 – Last day to bring socks & undies for the Student Council Drive
April 22 – Earth Day
April 26 – Administrative Professionals Appreciation Day
April 27 – Bear Paw Awards
April 27 – Lou Collective Shopping Event
April 30 @ 9-11AM – Bromwell Beautification Day
May 1-May 5 Teacher Appreciation Week
May 5 – FUN RUN!!!
May 6 @ 6:30PM – Back to the 90's Auction
Safety Update: In continuing to ensure our Bears are as safe as possible at school, Bromwell staff completed a Standard Protocol Response training on Thursday, April 15th. And a quick reminder that protocols for visitors/volunteers in the school will be changing to provide an extra layer of security (please be patient while we implement changes). Also, please find some additional safety information provided by DPS HERE. If you would like to know about Bromwell's Safety protocols please see the website HERE.
April CSC Meeting Update: As we continue to wait for updated choice information from DPS central offices, we will postpone the April CSC meeting. Several topics of discussion require utilizing first round Choice information, therefore we will hold off on scheduling our meeting until we have that data to share. Stay tuned!
DPS STEAM Expo & Robotics Exhibition: The DPS STEAM Department will be hosting a Sustainability Expo on Saturday, April 29 from 9AM-3PM at the new CSU SPUR Campus. All DPS students and families are welcome to attend this free event. There will be a Makerspace STEM Lab, Music & Dance Performances, Science Fair and so much more. Additionally, we will have some of our very own Bromwell 5th-graders participating in the Expo's Mars Math Robotics Exhibition. Please see the event website for more information: https://sciencefair.dpsk12.org/
Summer Camps: Looking for a summer camp for your young thespian? Camp Triple Threat is back for a fourth season of singing, dancing, and acting! CTT is run by Audrey Andrews and Khaki Sawyer, Bromwell graduates with loads of theater experience and a love for teaching it. Audrey is Theater major/Dance minor at University of Michigan. Khaki attends Colby College and is part of the Colbyettes, a well-established A' Capella group. (She's also on their rowing team!) Camp is July 17-27, ages 8-12 welcome. For more information, reviews, etc., go to camptriplethreat.weebly.com or text or email Audrey at 720-771-4864, audreyandrews@me.com.
Culture Corner Continued! – In addition to Arab American Heritage Month, Easter and Ramadan, we also want to highlight Passover and World Autism Awareness Day.
The Jewish celebration of Passover 2023 began at sundown on Wednesday, April 5 and ends tonight! Passover is a festival of freedom. It commemorates the Israelites' Exodus from Egypt and their transition from slavery to freedom. The main ritual of Passover is the seder, which occurs on the first two nights (in Israel just the first night) of the holiday — a festive meal that involves the re-telling of the Exodus through stories and song and the consumption of ritual foods, including matzah and maror (bitter herbs).
Also in April, we celebrate Autism and Neurodiversity Acceptance Month and World Autism Awareness Day, which was on April 2. More than 5 million Americans live with autism, yet many of these individuals experience inequities in employment, housing, and income. We challenge ourselves to ponder how we as a community can raise awareness and promote acceptance to ensure changes are made to improve the quality of life for neurodiverse individuals and their families.
We recognize that the best resources are those that come from the members of the culture themselves. Please let us know if you want to share how you celebrate this month!
A few quick updates and reminders…
1st Day School Supplies – Orders for school supplies for next year can be placed HERE.
Superhero Fun Run – Donors can make a one-time or per-lap contribution. Every little bit helps!​ Fundraising pages can be found HERE. If you would like to volunteer for the Fun Run, please sign-up HERE. And, the pledge sheet is attached!
Bromwell Beautification Day – Grab your gardening gloves and rake and join us Sunday April 30! Sign-up for a specific job HERE.
Yearbooks – If you would like to order a Bromwell YearBook, you can do so now HERE. The deadline to order is April 21st.
Student Council Sock & Undie Drive!!! – Our Bromwell Student Council has a goal to collect 500 packages of new underwear and socks for "Clothes to Kids – Denver." Let's help then reach their goal!
Returning to Bromwell for the 23/24 School Year – Planning on returning to Bromwell next year? Please find the intent to return form HERE.