B-Well Bulletin
Posted April 27, 2023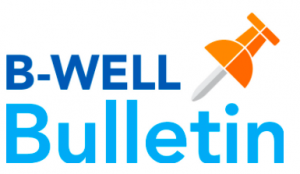 April 27, 2023
Important Upcoming Dates: (new items are BOLDED)
April 27 – Lou Collective Shopping Event
April 29 – DPS STEAM Expo & Robotics Exhibition
April 30 @ 9-11AM – Bromwell Beautification Day
May 1-5 – SPIRIT WEEK! (details below)
May 1-4 – Staff Appreciation Week (List of "Favorite Things")
May 2 @ 5-6:30PM – Citywide Elementary Art Show @ the DAM
May 5 – FUN RUN!!!
May 6 @ 6:30PM – Back to the 90's Auction
May 9 @ 4PM – CSC Meeting
May 11 @ 8:30AM – PTA Meeting (In Person)
May 17 from 3:30-5:30PM – Student Led Conferences (details below)
Spirit Week Next Week (May 1 – May 5): Let's get our Bears into the fundraising mindset with spirit week leading up to the Fun Run next Friday!
Monday – Silly and/or Strange Sock Day
Tuesday – Pajama Day
Wednesday – Bromwell Spirit Gear
Thursday – Crazy Hat Day
Friday – Show me your true colors Day (grade levels will be assigned specific colors, look out for an email from your classroom liaison)
Check out the Fun Fundraising map below. We are 1/2 way to receiving a donation from all 50 states!
Student Led Spring Conferences: Conferences will take place on May 17 between 3:30 and 5:30PM. No need to schedule a specific time, but please allow for 10-15 minutes for each of your Bears to walk you through there accomplishments this year! Students will showcase how much growth they have made and highlight some of their most important/favorite activities this school year. Teachers will be in classrooms to support students however there will not be time for individual parent teacher conferences.
A few quick updates and reminders…
Back to the 90's Auction Update: Still need to purchase tickets? Grab them now and bid on items HERE! Buy-A-Share parties and teacher experiences go live tomorrow!
1st Day School Supplies – Orders for school supplies for next year can be placed HERE. There's a promo running now… if 50 Bears order supplies before the end of April, Bromwell will be entered to win $2,500 free supplies for next year!
Bromwell Beautification Day – Grab your gardening gloves and rake and join us Sunday April 30! Please be sure to sign-up HERE if you can help!
Elementary School Art Show @ the DAM: Some of our very own Bromwell Bears will be showcased: Gunnison Beardsley (K), Leo Steinfeld (K), Ari Schlichter (1st), Zaida Malone-Deakins (2nd), Lizi Chang (3rd), and Wilfred Blake (5th)!