B Well Bulletin
Posted November 5, 2021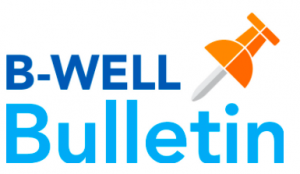 Important dates and information included in this week's Bromwell Bulletin!
Snow Days/Inclement Weather Policy
Annual Fund Update
Covid-19 Update
Native American Heritage Month
Winter Coat Drive
Thanksgiving Luncheon
Lost & Found
Equity Survey for Families
Playground Survey for Families
Calendar Planning:
November 9 @ 7:30 – PTA Meeting (Zoom Link)
November 11 @ 4:00 – CSC Meeting (Zoom Link)
November 16 – DINE OUT at the Campus Lounge
November 17 – Thanksgiving Luncheon for Students
November 17-19 – Winter Coat Drive
November 18 – School Picture Retakes & Bear Paw Assembly
November 19 – End of first Trimester
November 22 – 26 – NO SCHOOL/ Thanksgiving Break
Snow Days & DPS Inclement Weather Policy – As the weather begins to turn, please review the following information regarding Snow Days and DPS's Inclement Weather Policy to learn how Transportation Services operates if school is canceled or goes remote because of weather. There are also details on how you can find out if school has been canceled or goes remote. At Bromwell, there will be an option to join remote learning day(s) on the second day (and beyond) if there is a multi-day closure due to weather. We will be sure that technology goes home with students in need. If you have any questions, please call 720-423-4600 or email transportation@dpsk12.org.
Annual Fund Update – Way to go, Bears! Thanks to your support and generosity our community has achieved 44% school-wide participation and raised over $66,000. And speaking of school wide participation, we are excited to share that WHEN we achieve 100% school-wide participation, we'll celebrate by taking an all-school picture, outside, with our STEAM drone, followed by a short, all school dance party (outside)! Give a donation of any amount today!
COVID19 Update – At Bromwell, we are continuing to emphasize the health and safety measures that we have had for the last 18+ months which have served our community well. We know we have the best chance of keeping our community healthy when we all commit to:
Keeping kids at home when they are not feeling well. It is not appropriate to send children to school with symptoms of illness. This has been occurring far too frequently.
Maintaining a high level of vigilance outside of school with mask wearing indoors, knowing the levels of Covid in the greater community are high as well.
Communicating with Nurse Brooke and Valecia if you have had an exposure in your family, are testing, or have any questions!
Vaccination Access for students 5-11 years old – As you have likely seen, vaccination for children ages 5-11 has been approved by the FDA. Please find more information, including information on vaccine locations, from DPS HERE. We do encourage families to consult with their physicians about questions around vaccinations.
November is Native American Heritage Month – November is a time to recognize, honor, and celebrate the diverse traditions, cultures, and languages of the first Americans. At Bromwell, we are honoring this cultural moment with celebration of our Native community and through learning. Please find additional information and resources from DPS HERE. And HERE is a link to e-books and downloadable books from a Native author for young Native readers that might be of interest to our families and students.
Winter Coat Drive November 17-19th – Let's be ALL IN for our community! Valverde Elementary is in need of new or gently used winter coats, gloves, hats & scarves. There will be a collections table in the front lobby. Any sizes for Elementary age students are greatly appreciated.
Thanksgiving Luncheon – The sign-up form is included with this Bulletin. Please be sure to return a completed form with your Bear TOMORROW, FRIDAY NOVEMBER 5th if you would like them to join in our Thanksgiving lunch.
Lost & Found – The Lost & Found is quite literally overflowing! We want to be sure that your Bear has their coat for when the weather cools off again next week. If they don't have their coat, it is likely in the Lost & Found.
Family Surveys – Bromwell Community, we need your input!!! Two quick surveys to complete. The first is our community equity survey that can be found HERE. The second survey is to share ideas from your favorite playground as our steering committee works toward conceptual ideas, which can be found HERE.
Helpful links:
Weekly To Do's: