B-Well Bulletin
Posted November 11, 2021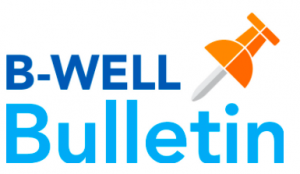 Important news, updates, and information included in this week's Bromwell Bulletin!
MASKS
Lost & Found!!!
Thanksgiving Lunch
The Turkey Trot Returns! – Volunteers Needed
Surveys – Please respond!
Calendar Planning:
EVERYDAY – Make sure your Bear wears their mask!
November 16 – DINE OUT at the Campus Lounge
November 16-18 – Winter Coat Drive
November 17 – Thanksgiving Luncheon for Students
November 18 – School Picture Make-up date/Retakes & Bear Paw Assembly
November 18 – Turkey Trot and Fall Festival
November 19 – NO SCHOOL
November 22 – 26 – NO SCHOOL/ Thanksgiving Break
Masks are required EVERYDAY – As a quick reminder, please make sure your Bear comes to school with a mask everyday and has an extra in their backpack. We had a large portion of our student body arriving at school each day without a mask. Please do not rely on Bromwell to provide a mask for your student.
Picking Up Early or Appointments – If your Bear has a Dr.'s appointment during school or you are planning on picking up early from school please complete the attached form and send it to school with your child to be given to the main office. Also, please expect at least a 5-10 minute wait when picking up your child early from school.
Lost & Found – Lost & Found will be cleaned out prior to Thanksgiving break. Any coats/jackets/hats/gloves that are not claimed will be cleaned and donated to the Coat Drive. Please take a quick look at everything in the Lost & Found HERE. The rack will be outside school today and again next week before Thanksgiving Break.
Thanksgiving Luncheon – If you did not submit your form for Thanksgiving Lunch, no worries! Please just send Andrea Stapleford (andreastapleford@gmail.com) a note if you would like your child to have hot lunch during the Thanksgiving luncheon. We hope to get a final headcount at least two days in advance. If weather permits, our Bears will be eating outside to allow them additional time to eat safely. As a reminder, due to Covid restrictions, lunch will only be for our Bears this year.
The Turkey Trot Returns! – On November 18th, our Bears will be participating in an annual Bromwell Tradition – The Turkey Trot Fun Run. 3rd-5th run at 12:30-1:15, and ECE-2nd run at 1:25-2:25. Please sign up to volunteer HERE. There will also be a canned food drive that will benefit Metro Caring. Please have students bring food to donate on the day of the race. Suggested Donations can be found HERE. At the end of the race our Bears will participate in fall themed activities.
Annual Fund Update – Way to go, Bears! Thanks to your support and generosity our community has achieved 66% school-wide participation! I photo of 4th Grade receiving their backpack clips is included below. Next week we'll be kicking off our coin drive, but please look around for some extra change this weekend! The Annual Fund closes at the end of next week! Give a donation of any amount today.
Family Surveys – Bromwell Community, we need your input!!! Two quick surveys to complete. The first is our community equity survey that can be found HERE. The second survey is to share ideas from your favorite playground as our steering committee works toward conceptual ideas, which can be found HERE.
Helpful links:
Weekly To Do's: