B-Well Bulletin
Posted December 10, 2021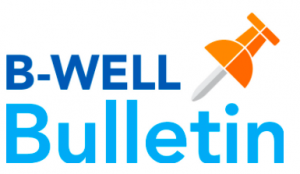 Important news, updates, and information included in this week's Bromwell Bulletin!
The NED Show!
DPS 2022-2023 School Choic
Calendar Planning:
December 12, 13 – Shop at Kendra Scott Cherry Creek
December 14 – DINE OUT! @ Pastry Republic
December 14 @ 7pm – PTA Meeting (Via Zoom)
December 16 – Bear Paw Award Assembly – Joyful
December 16 – CSC 4pm (Via Zoom)
December 20 – January 3 – NO SCHOOL/ Winter Break
The NED Show – We have an exciting upcoming school-wide live stream event. It's called The NED Show. The show will be on Tuesday, December 14th (during school hours). The NED Show is a positive behavior program. The performer takes our students on an interactive educational journey filled with storytelling, illusions, yo-yo tricks and humor. NED's message inspires students, promotes academic achievement, and supports our school goals! Please find some more information in the flyer attached.
DPS 2022-2023 School Choice – DPS School Choice Round 1 opens January 14th! Bears who are moving on to middle school next year will want to be ready once Choice opens early 2022. ECE students who intend to return to Bromwell for Kindergarten will need to complete the Choice process. And, if others in the community are interested in Bromwell for the next academic year, a few school tour times are available (12/16, 1/6, 1/13) prior to Round 1 Choice opening! Please feel free to forward along the following tour sign-up link: https://bromwell.dpsk12.org/bromwell-new-family-school-tour/.
Helpful links:
Weekly To Do's: