September 24, 2021
Posted September 24, 2021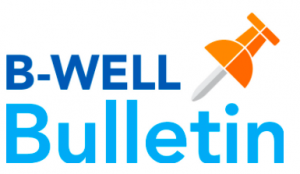 Important dates and information included in this week's Bromwell Bulletin!
Lockdown Info
Hispanic Heritage Month
Health Update
Dismissal Updates
Movie Night @ Bromwell
Bromwell Beautification Day
Bloom School Pictures
Bromwell is hiring!
Calendar Planning:
September 27th NO SCHOOL (Non-Student Contact Day)
September 30th Bear Paw Awards – BRAVE
October 8th MOVIE NIGHT @ Bromwell
October 10th 1:00-4:00PM Bromwell Beautification Day
October 21st, 22nd Bloom School Pictures
Helpful links:
As the weather changes, please be sure your child has warm clothes for morning drop off! It has been much chillier in the morning this week, and children are not allowed inside the school right away. Please make sure your Bromwell Bear has warm enough clothes to be outside first thing in the morning and during morning recess.
Lockdown Information – The safety of all children, school staff and support personnel are very important to us. In order to maintain a safe environment for our children to study and learn, it is necessary that we practice our emergency and crisis response plans by having drills designed to exercise our procedures. We will be conducting various drills throughout the school year. Please find some additional information attached to this bulletin. We conducted a lockdown and lockout drill on Thursday, September 23, 2021.
Hispanic Heritage Month (Sept 15 – Oct 15) – During the next several weeks our students will be learning about influential Hispanic / LatinX Americans in our morning announcements! If you have any inspirational people or important events you'd like to be included, please email bromwellnews@dpsk12.org.
Health Update – We believe that the multiple overlapping prevention strategies – including universal mask wearing and vaccination for eligible people – are working to prevent the spread of COVID in our school. We thank you for your partnership in this critical endeavor. Vaccines are the best way to prevent the spread of COVID-19 and to protect people from serious illness or death. If you have not yet gotten vaccinated or have a student who is about to turn 12, you can find additional information here. It is also the time of year when we encourage students and staff to get the flu vaccine.
Dismissal Updates – We are in a great groove for drop off and dismissal!!! Thank you all for being on-time, and ensuring the safety of all of our Bears! We still have two area for improvement: the Alley Gate and Garden Gate. We will now be blocking off the alley running North/South between Bromwell and Clayton Street as well as the staff parking lot during pick up time. Many families walking to pick up children are having to share the space with cars, and in an effort to ensure everyone stays safe, we ask that the alley and parking lot be used for walking only during pick up.
Movie Night @ Bromwell – Save the date! Our Bromwell Movie Night will be Friday October 8th. We will be watching Luca and ordering from Brothers BBQ. More info to come.
Bromwell Beautification Day! – Fall is upon us, and we would love for all families to join in our Bromwell Beautification Day Sunday October 10th. We'll divide up teams by zones and get Bromwell spruced up. Sign-up information will come soon!
Bloom School Pictures – School pictures will take place October 21st and 22nd. More information to come ahead of picture day.
Bromwell is hiring! – We currently have open special education paraprofessional positions here at Bromwell! Please email Kelly Kelly_Urbanowski@dosk12.org if you would like additional information or feel free to forward along to anyone that might be interested!
Weekly To Do's:
NO SCHOOL MONDAY SEPTEMBER 27th!!!