Bromwell Bulletin
Posted April 15, 2022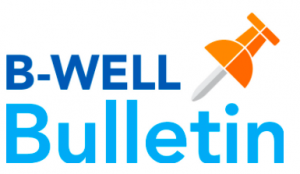 Important news, updates and information included in this week's Bromwell Bulletin!
Bromwell Art
Fun Run Update
Silent Auction
RSVP for our Leave Your Mark Celebration
First Day School Supplies
Community Choir
Summer Camps
Donation of Gently Used Clothing
Budding Bromwell Artists! Our Bears have been prevailing on the Denver art scene and the accolades are pouring in! We could not be more proud of our students' artistic accomplishments. The 2022 Citywide DPS District Art Show at the Denver Art Museum is now on display through April 29th. Our Kindergarteners made a large painting inspired by both Kehinde Wiley and Claude Monet. They made a beautiful painting together (photo attached) that was selected to be displayed as a group project for the Art Show. Our 4th and 5th graders' Snow Art Group Project was also on display (previously shared via B-Well). Individual pieces were also selected for the show, including work by: Kate B, Nicholas C, Cora A, London C, Belle C, Tristyn G, Ava C, Sophia W and Sam W. Finally, Alice G's artwork was chosen as the winner of Denver's 2022 Arbor Day Poster Contest. Congratulations to our Bears! (Some photos have been passed along by parents to include/share below; a slide presentation from Ms. Duffy with additional photos of artwork can be accessed HERE)
Fun Run Fundraising pages are live! Let's go Bears! We will have a raffle this Friday and next Friday for Bears who have received donations prior to the raffle. Fun Run fundraising efforts will end on the day of the Fun Run, April 29th, and the top runners and fundraisers (amount and # of donations) will be honored. If you have not received a communication from Memberhub regarding your student(s) page, please contact Tracy Killian, tlkillian74@gmail.com.
The Fun Run will take place from Run 9am-noon, and there will be an afternoon Pep Rally at 2pm with a taco truck on-campus, and Kona Ice after school! We will need many parent volunteers to ensure the events run smoothly and safely. Please keep an eye out for additional information for volunteer opportunities next week.
The Spring Silent Auction will run ONLINE from April 25-29. More information regarding auction items and how to bid will be shared prior to the start of the auction. Teacher and team experiences, buy-a-shares, and new this year grade-level baskets will all be available to bid on!
Please RSVP for the Leave Your Mark Celebration on May 6th from 4:30 – 6:30pm. RSVP by 4/22. Please note this event is independent from our spring fundraising drive, and there will not be a fundraising component to the celebration. This will be an open house event, and all are welcome! Please bring your kids. Please invite past alumni! We hope to see everyone there to celebrate!
Though it might seem early, it's already time to plan for school supplies next year! 1st Day School supplies is a great way to guarantee back-to-school school supplies. Unlike Wal-Mart, Target, and even Amazon they have the exact supplies our school has requested at locked-in prices. Easy, convenient and quick! Orders must be in by June 15. Order HERE!
Does your Bear love to sing? Denver Children's Choir is a community wide, all inclusive children's choir that celebrates diversity. Everybody has to try out but everybody gets in! Financial assistance is also available. One of the founding members was a former Bromwell teacher, Ms. Kraybill. It's a fantastic opportunity for kids to meet other kids from Denver schools and sing together. Please see the attached flyers for additional information.
In need of summer camps for your Bears? Our very own Mr. Johnson runs a full-filled camp every summer from our Bromwell campus. Open to incoming 1st – 5th graders; there is still space available for Session #2, June 20 – July 1 and a few more spots in Session #1 and Session #3. Additional information can be found at www.funfactorycamp.com. Also, DPS has provided some information regarding additional summer camp options that can be found HERE.
Clean out Your Closets for a Good Cause – As the weather continues to get warmer (we hope!), you may find that students have outgrown some of their clothing from last season. If you have clothing or shoes in good condition that you no longer need, please donate them to a great, local non-profit called Clothes To Kids of Denver (CTKD). There is a collection bin conveniently located in the front lobby of our school.
When you are cleaning out your closet, please only donate clothing that is…
New or gently used (Would you give it to a friend?)
Clean and ready to wear (No stains, holes, damage or broken zippers, please!)
Age appropriate (Styles suitable for school that appeal to children, teens & young adults.)
CTKD provides a free school wardrobe to students in the Denver Metro area whose families find themselves in need of some help. When you donate to CTKD, your clothes go directly to students in-need or in-crisis. CTKD serves students from pre-K through 12th grade so adult sized clothing is needed too, especially young men's clothing. For more information about this wonderful organization, visit www.clothestokidsdenver.org.
Repost of Upcoming Spring Dates!
April 18-21 – CMAS Testing (Math) – 3rd, 4th, 5th Grades
April 24-25 – Pre-Mother's Day Shopping @ Kendra Scott
April 25-29 – Online Silent Auction
April 25-28 – CMAS Testing (Science) – 5th Grade Only
April 26 – 2nd Grade Field Trip to DU/Newman Center
April 28 @ 8:30am – Principal Coffee
April 29 @ 9am-noon – Superhero Scramble Fun Run @ Bromwell
April 29 @ 2pm – Bromwell Pep Rally @ Bromwell
May 6 @ 4:30-6:30pm – LEAVE YOUR MARK Celebration @ Hotel Clio (Formerly JW Marriott)
May 10 – PTA Meeting and End of Year Celebration
May 12 @ 4pm – CSC Meeting
May 11 – 3rd-5th Grade Talent Show @ Bromwell (Date confirmed)
May 19 (TENTATIVE) – 4th Grade Concert
May 20 – NO SCHOOL for ECE (Parent/Teacher Conferences)
May 25 @ 10-11am – Kindergarten Continuation
May 26 @ 9:30am – ECE Continuation/Show
May 30 – Memorial Day – NO SCHOOL
June 1 – 5th Grade Continuation (Last day of classes for 5th Grade)
June 3 – Last Day of School – 12:45 Dismissal