Bromwell Bulletin
Posted December 3, 2021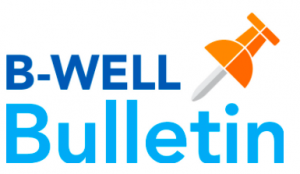 Important news, updates, and information included in this week's Bromwell Bulletin!
Support Bromwell & Local Businesses in December
DPS Liaison at Rocky Mountain Human Services
School Days Off/ Summer Camp Ideas
Please Sign-up for December Lunch Duty!!!
December Lunch Menu attached
Calendar Planning:
December 7 – DINE OUT! @ Hapa Sushi
December 12, 13 – Shop at Kendra Scott Cherry Creek
December 14 – DINE OUT! @ Pastry Republic
December 14 @ 7pm – PTA Meeting (Via Zoom)
December 16 – Bear Paw Award Assembly
December 16 @ 4pm – CSC Meeting (Via Zoom)
December 20 – January 3 – NO SCHOOL/ Winter Break
First, a huge thank you for our community's generosity during the Annual Fund, Winter Coat Drive, and Food Drive. We raised over $113,000 to support our school, sent countless winter coats to Valverde Elementary, and filled an entire car full of donated non-perishable food (830 lbs). Our community really knows how to give!
Support Bromwell and Local Businesses – We have three great opportunities to support Bromwell this month while shopping and dining out. Whether ordering food or buying Christmas gifts, a portion of the proceeds will go directly to Bromwell. Please find the flyer attached with further information!
DPS Liaison, Hollyanne Watton – The DPS Liaison is a position within the Family Support program. Rocky Mountain Human Services (RMHS) in collaboration with DPS developed this position to ensure that any child with a developmental delay (ages 3-5) or diagnosed Intellectual/Developmental Disability (age 5 and up) has access to services. Many teachers, staff, and parents in the DPS community are not aware of the program or are unsure of who to contact at RMHS when a need is identified; it is the goal with this role to bridge these gaps. Please find some additional information included in the flyer attached.
School Days Off & Summer Camps – Looking for care for your Bear when school is not in session?!?! We have some great options to share. Our very own Mr. J runs a fantastic camp at Bromwell every summer. There will be 3, two week-long sessions. Students from 1st-5th grade are welcome to sign up and attend. The camp will be theme based with a variety of themes including space, underwater adventures, and of course Harry Potter. Check it out at https://www.funfactorycamp.com/
Also, the University of Denver provides camp during school days off. More info can be found HERE.
Helpful links:
Weekly To Do's: