October 1, 2021
Posted October 1, 2021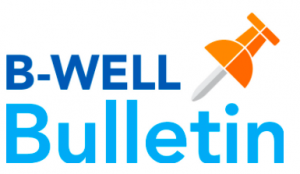 Important dates and information included in this week's Bromwell Bulletin!
SEAL Daily Lessons
Parent Teacher Conferences
Health Update
Bromwell Movie Night
Bromwell Beautification Day
Bromwell is hiring!
October Lunch Menu
Calendar Planning:
October 8 – MOVIE NIGHT!
October 10 – Bromwell Beautification Day
October 15 – 19 – NO SCHOOL (Conferences will NOT be held on October 15)
October 21-22 – Bloom School Pictures
Helpful Links:
SEAL Lessons – Bromwell students are incredibly fortunate to have a full-time psychologist on staff, Mr. Gallagher. Together, with Mrs. Urbanowski, they provide our children with daily Social Emotional & Academic Learning (SEAL) lessons. Students are currently learning about Zones of regulation within the classroom. This is an important tool for our students and these ideas can be reinforced at home! We will be posting the daily SEAL Lesson on the website to allow parents to follow along with what is being discussed each day at school. Please find more info and past lessons here: https://bromwell.dpsk12.org/bromwell-morning-announcements-and-seal-lesson/
Parent-Teacher Conferences – Conference sign-ups will go out no later than the 8th to parents. The 15th is listed on the calendar as a conference day, however conferences will be held after the 19th so that our teachers can come together on our Data Dig Days on the 18th and 19th. On those days staff come together as teams to discuss student's growth for the first 8 weeks as well as talk about strategies to ensure continued achievement!
Health Update – We believe that the multiple overlapping prevention strategies – including universal mask wearing and vaccination for eligible people – are working to prevent the spread of COVID in our school. We thank you for your partnership in this critical endeavor. Vaccines are the best way to prevent the spread of COVID-19 and to protect people from serious illness or death. If you have not yet gotten vaccinated or have a student who is about to turn 12, you can find additional information here. It is also the time of year when we encourage students and staff to get the flu vaccine.
Vision and Hearing Screening dates for the entire school –
Initial Screening Date(s): Oct 27-29, 2021
Recheck Screening Date(s): Oct 29, 2021
Bromwell Movie Night – Join us for our Bromwell Movie Night on Friday October 8th!! We will be watching Luca and ordering from Brothers BBQ. Brothers BBQ order info should come home with your Bear today!
Bromwell Beautification Day! – Fall is upon us, and we would love for all families to join in our Bromwell Beautification Day Sunday October 10th. We'll divide up teams by zones and get Bromwell spruced up. Bring everyone, and sign up here! https://m.signupgenius.com/#!/showSignUp/10c0d4daaa928aaf4c16-fall
Bromwell is hiring! – We currently have two open special education paraprofessional positions here at Bromwell! Please email Kelly Kelly_Urbanowski@dpsk12.org if you would like additional information or feel free to forward along to anyone that might be interested!
Weekly To Do's:
October 8 – MOVIE NIGHT!
October 10 – Bromwell Beautification Day