September 10, 2021
Posted September 10, 2021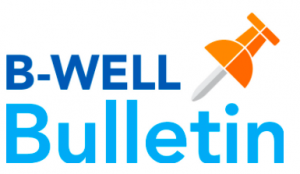 September 10, 2021
Important dates and information included in this week's Bromwell Bulletin!
CSC Vote/ E-Ballot
Bloom School Pictures
Morning / Dismissal Updates
Bromwell is hiring!
Calendar Planning:
September 14th @ 7:30PM PTA Meeting Zoom Link
September 16th @ 4:00PM CSC Meeting Zoom Link
September 27th NO SCHOOL (Non-Student Contact Day)
September 30th Bear Paw Awards – BRAVE

Helpful links:

Collaborative School Committee (CSC) VOTE!!! We have extended the deadline for the CSC vote through the weekend. We are hoping to have more of our community voice their support for a candidate. It is a priority of the CSC to ensure all of our communities' voices are heard, this is the first step! Please vote for our next CSC Community member HERE by September 14th! 
Bloom School Pictures – Mark your calendars! School pictures will take place October 21st and 22nd. More information to come ahead of picture day.
Breakfast in the Cafeteria – Breakfast is now being served in the cafeteria; kids will continue to eat outside as weather permits. If your child is having breakfast at school, please be sure they are dropped off at either Kiss and Go or the Garden Gate at 7:55AM to ensure enough time for them to eat prior to the scheduled learning.
Drop off and Dismissal Procedure Information –
Due to Covid, we ask that walking parents drop-off and pick-up at the perimeter of the school at either the Kinder/Alley gate, or the Garden gate (map included). Please say good-bye to your children at the gate, and allow them to walk into the school grounds independently. Pick-up should also occur at the perimeter of the school. If you do need to enter school grounds, please be sure to wear a mask!
Please be sure your child/children are dropped off between 7:55 and 8:10. Drop off is at either Kiss and Go, the Kinder/Alley gate, or the Garden gate. If you are dropping your child off after 8:10, please drop them off at the front door.
If your child is K,1 or 2 please pick them up at the Kinder/Alley gate (older siblings dismiss with younger siblings). 3rd-5th graders need to be picked up at the Garden gate. Before leaving with your child, please make sure to notify Bromwell staff at either gates.
Driving? Kiss & Go on East 3rd Place: Register HERE for Kiss n Go
Staggered Dismissal: If you are driving, please do not arrive early and park in Kiss & Go Pick-up.  Parking and waiting causes significant back-ups in Cherry Creek North.
3:05 Kinder and siblings
3:06 1st and siblings
3:07 2nd and siblings
3:08 3rd and siblings
3:09 4th and siblings
3:10 5th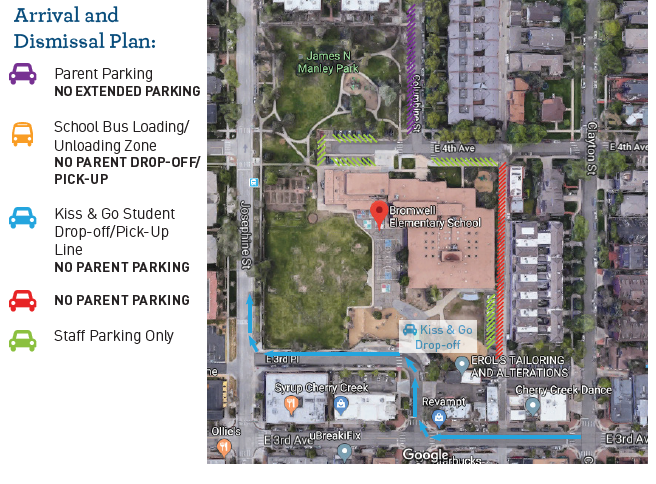 Bromwell is hiring! – We currently have open special education paraprofessional positions here at Bromwell! Please email Kelly Kelly_Urbanowski@dosk12.org if you would like additional information or feel free to forward along to anyone that might be interested!
DPS is currently offering a $2,000 hiring bonus for special education paraprofessionals. Also, guest teacher pay has been increased to $20 per hour for substitute teachers with substitute licenses, and $25 per hour for substitute teachers with teaching licenses.
Weekly To Do's:
Submit your CSC Votes by September 14th.
Please join the monthly PTA discussion at 7:30PM September 14th
Please join the monthly CSC discussion at 4:00PM September 16th