September 16, 2021
Posted September 16, 2021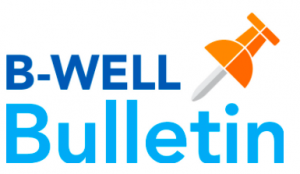 Important dates and information included in this week's Bromwell Bulletin!
CSC Meeting Rescheduled!
Health Office / Nurse Brooke Update
Breakfast Info
School Fees
Morning Drop-Off / Dismissal Updates
Bromwell is hiring!
Calendar Planning:
TOMORROW September 17th – SCHOOL SPIRIT DAY!
September 21th @ 4:30PM CSC Meeting Zoom Link
September 27th NO SCHOOL (Non-Student Contact Day)
September 30th Bear Paw Awards – BRAVE
October 8th MOVIE NIGHT @ Bromwell
October 10th 1:00-4:00PM Bromwell Beautification Day
October 21st, 22nd Bloom School Pictures
Helpful links:
Collaborative School Committee (CSC) Meeting – We are rescheduling our CSC Meeting (originally scheduled for today) to Tuesday September 21st @ 4:30-6:00PM to allow time to welcome our new members and finalize school count (deadline today!). This will allow us to gather the information we need to have a meaningful discussion. Sorry for the last minute change. Dr. Mike DeGuire will still plan to attend to answer questions regarding the upcoming school board election!
Update from the Bromwell Health Office – The Bromwell Health office now has a full-time health tech, Ashley Baker, and a nurse, Brooke Goudy, two days a week. We are excited about our ability to provide another level of support to health clinic. All team members supporting the health office have received state developed training regarding treating and providing health intervention for students at Bromwell Elementary. We use our skills and training to make decisions on emergency care and treatment. When your child is injured at school you will be notified if the incident rises to a level of care that needs follow up at home. These incidents would include head injury, emergency medication was given, a significant cut or bruise requiring follow up care at home, or chronic visits for illnesses. We use the document "How Sick Is Too Sick?" to determine when students should be excused from school and parents/guardians will be notified when a student is assessed and determined to meet the standards for exclusion. We understand that some parents may want to be notified more often regarding minor injuries or small scrapes that may occur during the school day. We will work with these families to provide information as requested.
Breakfast in the Cafeteria – If your child is having breakfast at school, please be sure they are dropped off at either Kiss & Go or the Garden Gate at 7:55AM to ensure enough time for them to eat prior to the start of scheduled learning. The breakfast menu is included with today's bulletin.
School Fees – School Fees are due and can be paid through MySchoolBucks (MySchoolBucks can be accessed through the DPS Student Portal: https://www.schoolcafe.com/dps ). The school fees will support the following:
Bridges Consumables (Workbooks) $5
iReady Assessment Platform $8
Guided Reading Library $5
SEL/Composition Notebook $2
Miscellaneous (i.e. Home Connections, EL Modules, Classroom Speakers, etc) $5
Total =$25
Drop off and Dismissal Procedure Information –
Due to Covid, we ask that walking parents drop-off and pick-up at the perimeter of the school at either the Kinder/Alley gate, or the Garden gate. If you are using these gates, please do not drive into the alley to drop your children, park in handicap spots, or park in empty teacher stops. Instead, please use Kiss & Go! Register HERE for Kiss n GoIf you are dropping your child off after 8:10, please drop them off at the front door.
Kiss & Go on East 3rd Place: Register HERE for Kiss n Go
Staggered Dismissal: If you are driving, please do not arrive early and park in Kiss & Go Pick-up. Parking and waiting causes significant back-ups in Cherry Creek North.
3:05 Kinder and siblings
3:06 1st and siblings
3:07 2nd and siblings
3:08 3rd and siblings
3:09 4th and siblings
3:10 5th
Bromwell is hiring! – We currently have open special education paraprofessional positions here at Bromwell! Please email Kelly Kelly_Urbanowski@dosk12.org if you would like additional information or feel free to forward along to anyone that might be interested!
DPS is currently offering a $2,000 hiring bonus for special education paraprofessionals. Also, guest teacher pay has been increased to $20 per hour for substitute teachers with substitute licenses, and $25 per hour for substitute teachers with teaching licenses.
Weekly To Do's:
Please join the monthly CSC discussion at 4:30PM September 21st.